The Wednesday Bookmark
Details

Category: Authors
Published:

Tuesday, 14 February 2017 06:00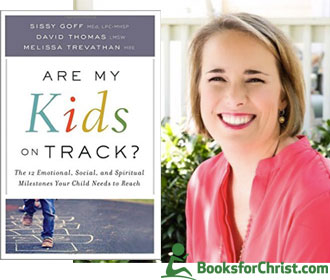 Learn the 12 emotional, social, and spiritual milestones your child needs to reach. Read more for Brock Tozer's interview with Sissy Goff, co-author of "Are My Kids on Track?" on this week's Wednesday Bookmark, brought to you by BooksforChrist.com. (Aired February 15th, 2017)
Purchase online at BooksforChrist.com
Tools for Identifying and Developing Spiritual, Social, and Emotional Growth
From birth to adulthood, our children's physical and intellectual development is carefully tracked and charted. But what about their hearts? After all, how our children develop emotionally, socially, and spiritually will determine who they become as husbands and wives, fathers and mothers, friends and co-workers.
Are My Kids on Track? helps you identify and measure 12 key emotional, social, and spiritual milestones in your children's lives. Moreover, you will discover practical ways to guide your kids through any stumbling blocks they might encounter and help them reach the appropriate landmarks. Along the way the authors pinpoint the different ways boys and girls develop, so you can help your child flourish in his or her own way.
Filled with decades of experience from three practicing counselors, speakers, and writers, this book provides you with valuable, current research and user-friendly, hands-on practices to make supporting your kids' soul
development a seamless part of family life. Don't just raise smart kids--raise courageous, compassionate, resilient, empathetic, and smart kids.
ABOUT THE AUTHOR
SISSY GOFF, M.ED., LPC-MHSP spends most of her days talking with girls and their families, with the help of her counseling assistant/pet therapist, Lucy the Havanese. She has worked as the Director of Child and Adolescent Counseling at Daystar Counseling Ministries in Nashville, Tennessee since 1993, with a Master's degree from Vanderbilt University. A sought-after speaker for parenting and teacher training events such as d6, MOMcon, and Lifeway Kids Conference, Sissy has spoken to thousands of parents, teachers, and girls across the country. Sissy is the author of eight books including parenting titles, Are My Kids on Track, Intentional Parenting, The Back Door to Your Teen's Heart, Raising Girls, and Modern Parents, Vintage Values, and a video curriculum called Raising Boys and Girls. She has also written two books for girls, Mirrors and Maps for 11-14 year-olds and Growing Up Without Getting Lost for 15-19 year-olds. Sissy is also a frequent guest and contributor to media shows and publications such as Moody Midday Connection, the Chat with Priscilla Shirer, as well as Today's Christian Woman, ParentLife, and Parenting Teens magazines.
raisingboysandgirls.com
facebook.com/Raising-Boys-and-Girls
twitter.com/raisingbandg
instagram.com/raisingboysandgirls