The Wednesday Bookmark
Details

Category: Authors
Published:

Tuesday, 07 February 2017 06:00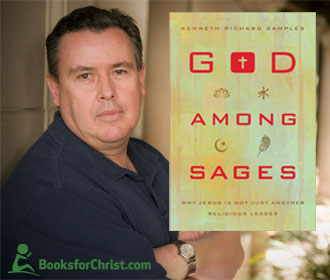 Was Jesus just a spiritual leader, like Krishna, Buddha, Confucius, and Muhammad? Or is he something else entirely? Read more for Brock Tozer's interview with Kenneth Richard Samples, author of "God Among Sages" on this week's Wednesday Bookmark, brought to you by BooksforChrist.com. (Aired February 8th, 2017)
Purchase online at BooksforChrist.com
In God among Sages, Ken Samples presents a biblical and historical portrait of Jesus, grounded in the claims Jesus makes about himself. Then he compares and contrasts Jesus with Krishna, Buddha, Confucius, and Muhammad and explores the competing philosophies of religious pluralism, inclusivism, and exclusivism. The result is a clear understanding of what sets Jesus apart as not simply a teacher to follow but God himself, worthy of our full allegiance and worship.
"Well informed, wise, and sympathetic, this is a readable volume for those interested in exploring world religions and what makes Jesus so unique."--Paul Copan, Pledger Family Chair of Philosophy and Ethics, Palm Beach Atlantic University; author of A Little Book for New Philosophers
ABOUT THE AUTHOR
Kenneth Richard Samples is a senior research scholar with Reasons To Believe, the premier science-faith integration ministry. An adjunct instructor of apologetics at Biola University, Samples is the author of Without a Doubt, A World of Difference, and 7 Truths That Changed the World. He lives in Southern California with his wife, Joan, and their three children.
reasons.org/about/who-we-are/kenneth-samples
facebook.com/KennethRSamples
twitter.com/RTB_KSamples