The Wednesday Bookmark
Details

Category: Authors
Published:

Tuesday, 31 January 2017 06:00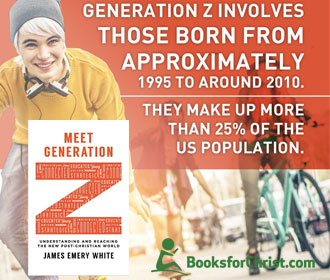 Insights into the generation that follows the Millennial generation for Pastors, church leaders and parents. Read more for Brock Tozer's interview with Dr. James Emery White, author of "Meet Generation Z" on this week's Wednesday Bookmark, brought to you by BooksforChrist.com.

Purchase online at BooksforChrist.com
Move over Boomers, Xers, and Millennials; there's a new generation--making up more than 25 percent of the US population--that represents a seismic cultural shift. Born approximately between 1993 and 2012, Generation Z is the first truly post-Christian generation, and they are poised to challenge every church to rethink its role in light of a rapidly changing culture.
From the award-winning author of The Rise of the Nones comes this enlightening introduction to the youngest generation. James Emery White explains who this generation is, how it came to be, and the impact it is likely to have on the nation and the faith. Then he reintroduces us to the ancient countercultural model of the early church, arguing that this is the model Christian leaders must adopt and adapt if we are to reach members of Generation Z with the gospel. He helps readers rethink evangelistic and apologetic methods, cultivate a culture of invitation, and communicate with this connected generation where they are.
Pastors, ministry leaders, youth workers, and parents will find this an essential and hopeful resource.
ABOUT THE AUTHOR
James Emery White (PhD, Southern Seminary) is the founding and senior pastor of Mecklenburg Community Church, a suburban megachurch in Charlotte, North Carolina, often cited as one of the fastest-growing church starts in the United States. Former president of Gordon-Conwell Theological Seminary, White is the author of several books, including The Rise of the Nones, Rethinking the Church, What They Didn't Teach You in Seminary, and The Church in an Age of Crisis. He lives in North Carolina.
churchandculture.org
twitter.com/JamesEmeryWhite