The Wednesday Bookmark
Details

Category: Authors
Published:

Tuesday, 24 January 2017 06:00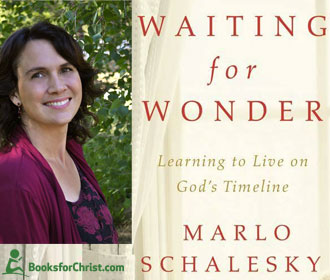 It's easy to believe God when a promise is new. It's hard when the years pass and nothing changes. Read more for Brock Tozer's interview with Marlo Schalesky, author of "Waiting for Wonder" on this week's Wednesday Bookmark, brought to you by BooksforChrist.com. (aired January 25th, 2017)

Purchase online at BooksforChrist.com
It's easy to believe God when a promise is new. It's hard when the years pass and nothing changes. It's even harder when desperation strikes, your plans backfire, and still God does not fill the emptiness. But what if, in this waiting, God is calling us to more?
Join author Marlo Schalesky on a unique, contemplative journey to reveal the wonder that is often missed when we find ourselves struggling to wait well. Walking through the life of the biblical character Sarah, one who knows what it means to wait, you will discover a glimpse of God's character that will give you strength to keep hoping and praying for the desires of your heart.
Waiting for Wonder is a journey into the heart of God where you will wrestle with personal questions, think deeply about God's true character, and learn to appreciate His divine work as you discover your own path to the promised land. Recapture your hope, restore your soul, and renew your vision of a wondrous Savior when you learn to live on God's time.
Leader guide also available.
ABOUT THE AUTHOR
Marlo Schalesky is an award-winning author of ten books, including Wrestling with Wonder: A Transformational Journey Through the Life of Mary. A regular speaker and columnist, she has also published nearly 1,000 articles in various Christian magazines, including Focus on the Family, Today's Christian Woman, In Touch, and Marriage Partnership. Marlo lives with her husband, six young children, nine horses, two dogs, five cats, two parakeets, ten rabbits, two chinchillas, three hamsters, and a bunch of fish in a log home in Salinas, California.
marloschalesky.com
facebook.com/MarloSchalesky