The Wednesday Bookmark
Details

Category: Authors
Published:

Tuesday, 06 September 2016 07:00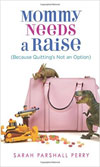 A story for every mother who has traded annual reports for homework help and the mind-muddling world of motherhood!
Click here
fo
r
Brock Tozer's interview with
Sarah Parshall Perry,
author of "
Mommy Needs a Raise (Because Quitting's Not an Option)
" on
this week's Wednesday Bookmark, brought to you by
BooksforChrist.com
.

Purchase online at BooksforChrist.com


Um, excuse me, but . . . do these children come with dental?
Sarah Parshall Perry knew that raising kids would be different from climbing the corporate ladder. But she wasn't ready for just how different. Wasn't a job just a job? And what was that on her shirt? Sarah left the corporate world with a plan to win at mothering and was downright blindsided. Nothing went as planned, everything was foreign, and her bosses didn't always understand her value to the organization.
With her signature wit, lawyer-turned-stay-at-home-mommy Sarah says what all of us are thinking when we trade annual reports for homework help and sleepless nights. Sarah invites you to laugh alongside her in the "Are you kidding me?!" moments that come with the job of growing people. Crossing the divide between "employee" and "mother" is hard. But thankfully, it's also hilarious.
This book isn't just her story. It's your story. The story of every mother who gives up one thing to get something better--and ends up finding out what she's worth along the way.
About the Author
Sarah Parshall Perry (JD, University of Virginia School of Law) is a wife and mother of three. She is the author of Sand in My Sandwich, coauthor of When the Fairy Dust Settles, contributing writer to The Horse of My Heart, and writer of many articles, op-eds, and award-winning stories. Sarah currently writes for www.chosenfamilies.org and www.specialneedsparenting.net. She lives in Baltimore, Maryland.
sarahperrywrites.com
facebook.com/sarahperryauthor
twitter.com/SarahPPerry