The Wednesday Bookmark
Details

Category: Authors
Published:

Thursday, 09 October 2008 05:42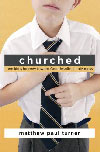 Brock interviewed author/narrator Matthew Paul Turner on "Churched: One Kid's Journey Toward God Despite a Holy Mess". Don't miss it on the Morning Express at 9:00am on October 22nd!
"Churched..." is the compelling narrative of life inside the walls of the local church (building) and what it means to "be" churched.
Readers will easily identify with the relationship dynamics between Matthew and his loving-but-firm parents, dogmatic teachers, fear-inspiring, passionate pastor, and supportive, if sometimes misguided, friends.
Gen X readers will also connect with the musings and misadventures of a pop culture-loving, music-appreciating boy trying to grow up in the eighties, in a home where even contemporary Christian music was proclaimed to be "of the Devil."
To purchase this book online, click here.