The Wednesday Bookmark
Details

Category: Authors
Published:

Monday, 05 November 2012 14:04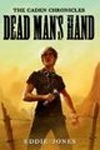 Adventure, suspense and just plain laugh-out-loud fun.  
Click here
for Care's interview with Eddie Jones author of "Dead Man's Hand", from this week's Youth Wednesday Bookmark, brought to you by 
Salem Storehouse
!    

30% off! Call 613-727-0203 to reserve your copy or visit Salem Storehouse (1558 Merivale Rd or 315 Lisgar St).  Offer only valid for one week from the interview date. 
The Caden Chronicles. In an exciting, engaging, and often humorous style, Eddie Jones has created a mystery trilogy about Nick, a curious young man, who begins to question everything around him, including his faith. "Dead Man's Hand" is a compelling story for middle school readers (boys especially), they can fall into, one that spurs their imagination and gets them jazzed about reading and using their creative gifts. Ages 9 and up.
It's All Just a Show...Right? 'This is an authentic old west ghost town, son. Around these parts the dead don't stay dead.'
Nick Caden's vacation at Deadwood Canyon Ghost Town takes a deadly turn toward trouble when the fourteen-year-old finds himself trapped in a livery stable with the infamous outlaw Jesse James. The shooter whirls, aims and... vanishes. Great theatrics, Nick thinks, except now he's alone in the hayloft with the bullet-riddled body of Billy the Kid. And by the time the sheriff arrives, the body disappears.
Soon Nick is caught in a deadly chase---from an abandoned gold mine, through forbidden buffalo hunting grounds, and across Rattlesnake Gulch. Around every turn he finds another suspect. Will Nick solve the murder? Will his parents have him committed? Or will the town's infatuation with Hollywood theatrics conceal the real truth about souls, spirits and the destiny that awaits those who die.

About the Author
 Eddie Jones is the author of eleven books and over 100 articles. He is a three-time winner of the Delaware Christian Writers Conference. His novel, The Curse of Captain LaFoote, won the 2012 Moonbeam Award in the Pre-Teen Fiction/Fantasy category and 2011 Selah Award in Young Adult fiction. Dead Man's Hand is the first book in the Caden Chronicles mystery series and explores scripturally based paranormal activities.

eddiejones.org
twitter.com/EddieJonesWords
facebook.com/EddieJonesHumor