Other
Details

Category: Other
Published:

Thursday, 08 March 2018 16:50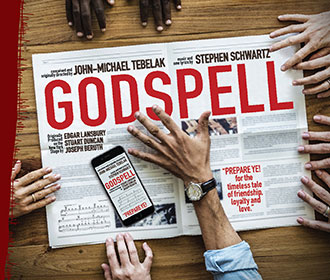 Care Baldwin interviews GODSPELL Artistic Director and founder of 9th Hour Theatre Company Jonathan Harris about how this timeless musical is relevent today!
The show runs at Centrepointe Theatre Studio March 8th through 17th. Get tickets here.
Learn more at 9th-hour.ca
Tickets starting at $25 and available on a 'sliding scale', available at Centrepointe Theatre box office online or in person or by calling 1-866-752-5231.
Performances at Centrepointe Theatre STUDIO (Ben Franklin Plan, 101 Centrepointe Drive, Ottawa)
March 8, Thursday at 7:30pm (opening night reception)*
March 9, Friday at 7:30pm
March 10, Saturday matinee at 2:30pm
March 10, Saturday at 7:30pm
March 11, Sunday matinee at 2:30pm
March 13, Tuesday at 7:30pm
March 14, Wednesday matinee at 2:30pm
March 14, Wednesday at 7:30pm
March 15, Thursday at 7:30pm
March 16, Friday at 7:30pm
March 17, Saturday matinee at 2:30pm
March 17, Saturday at 7:30pm
This Easter, prepare ye the way for a timeless tale of friendship, loyalty, and love, as the story of Jesus comes vibrantly to life in a fresh and musical way for the whole family to experience. In a world where we are constantly bombarded with bad news and "fake news", what can we consider good news and what would it even look like? What if it's not seen as good news for everyone? What news can we even believe anymore, and more importantly, who can we trust? In Godspell (the word meaning "good news" or "good story"), a rag tag group of today's unlikely citizens work together to tell the different parables of Jesus by using a wide variety of songs, games, and storytelling techniques. With an eclectic blend of music, the story of Jesus dances across the stage, concluding with a depiction of the familiar Last Supper and Crucifixion. Boasting a score with chart topping songs by Wicked composer and three-time Grammy and Academy Award winner, Stephen Schwartz, and with a book by visionary playwright John-Michael Tebelak, Godspell is a high energy sensation that has touched audiences around the world for almost five decades.