Other
Details

Category: Other
Published:

Wednesday, 01 March 2017 07:00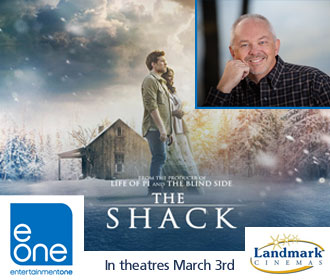 Care Baldwin interviews best-selling author of "The Shack" about his involvement in the highly-anticipated film and the amount of trust required to place your book in to someone else's hands.
Click here for tickets to the Pre-Screening on Thursday, March 2nd @ 7:00pm at Landmark Cinemas Kanata.
The Shack:
Based on one of the top 100 best-selling books of all time with over 22 million in print worldwide "The Shack" by William Paul Young (2007)
From the producers of Life of Pi and The Blindside, The Shack takes you on a father's life-transforming journey that will show him the ultimate truth about love, loss and forgiveness.
Starring: Octavia Spencer, Sam Worthington, Radha Mitchell. Tim McGraw
In Theatres: March 3rd at select Landmark Cinemas.
Rated PG.