Contests
Details

Category: Contests
Published:

Saturday, 11 November 2023 15:00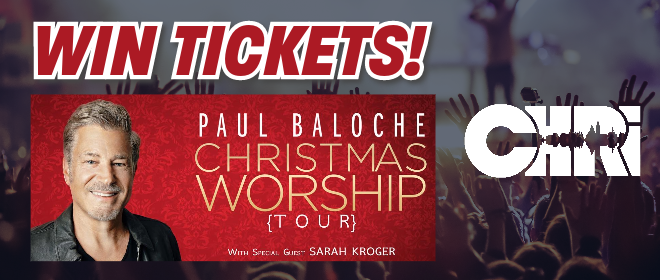 Guess the correct Christmas carol and WIN tickets to see Paul Baloche & Sarah Kroger!
HOW TO WIN: Listen for the cue to calll on the Morning Express and Drive With Care and call in to guess the CORRECT Christmas carol based on a thesaurus definition!
For example:
HINT: Supreme ruler of the celestial city
ANSWER: King Of Heaven
Contest line: (613) 247-1886
PRIZE: Two general admission tickets to the Christmas Worship tour in Ottawa
CONTEST DATES: November 13th to 17th, 2023
Concert Details
TICKETS: Prices vary based on age/group size. GET TICKETS
WHEN: Thursday, November 30th, 2023 @ 7:00 P.M. (approx. 3 hours)
WHERE: Cedarview Alliance Church (2784 Cedarview Rd, Nepean, ON K2J 4J2)
Christmas Worship re-imagines the classic carols of Christmas for the season's Sunday morning set. Featuring unforgettable classics seamlessly married with vertical worship lyrics, this collection embodies Paul Baloche's 30-year mission in ministry, to equip worshipers and worship leaders with songs and resources that help them express glory to God.