Contests
Details

Category: Contests
Published:

Wednesday, 15 November 2023 08:00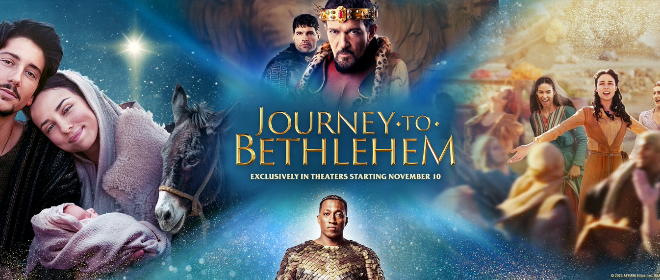 Journey To Bethlehem is coming to theatres Friday, November 10th! Win family tickets to see the newest live-action Christmas musical!
This contest is now closed. Tickets can still be purchased with the links below!
PRIZE: Four movie tickets* to see Journey To Bethlehem in theatres
*You will receive a code that can be redeemed at any Cinplex theatre showing of the movie, on or after November 13th
HOW TO WIN: Tune in to the Morning Express (7 to 9 A.M. ET) and Drive With Care (3 to 6 P.M. ET) and listen for the cue to call and respond to the following question: What is the FIRST Christmas movie your watch each year?
Contest line: (613) 247-1886
WHEN: November 6th to 10th, 2023
Journey To Bethlehem
A young woman carrying an unimaginable responsibility. A young man torn between love and honor. A jealous king who will stop at nothing to keep his crown. This live-action Christmas musical adventure for the entire family weaves classic Christmas melodies with humor, faith, and new pop songs in a retelling of the greatest story ever told—the story of Mary and Joseph and the birth of Jesus. A unique new entry into the collection of holiday classic movies, this epic Christmas musical is unlike any before it.
Directed by Adam Anders (Glee, THE PROM), and starring Antonio Banderas, Omid Djalili, Milo Manheim, Fiona Palomo, Moriah, Joel Smallbone, Lecrae, Rizwan Manji, Geno Segers, and Stephanie Gil.
Coming to theatres Friday, November 10th!
Watch the Official Movie Trailer below!