Contests
Details

Category: Contests
Published:

Saturday, 20 November 2021 13:12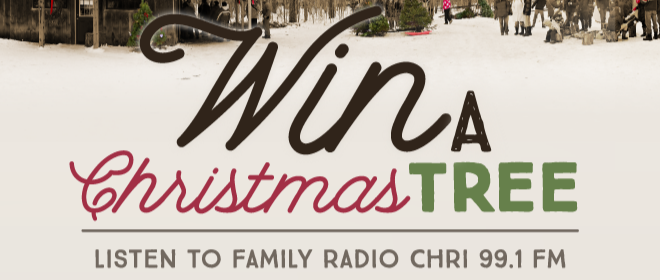 Make great memories with your family and friends this Christmas by picking out your very own Christmas tree from Thomas Tree Farm!
This contest is now closed! Congratulations to our 5 tree winners! Have a very merry & blessed Christmas!
PRIZE: One REAL Christmas tree (maximum 8 feet in height, up to $70 value)
HOW: Listen for your cue to call-in on the Morning Express (7-10 A.M. ET) and describe how your Christmas celebrations will look in 2021.
DETAILS:
- Thomas Tree Farm is set on a beautiful 50-acre property just south of Ottawa, 3kms west of North Gower. (6421 McCordick Rd)
- Harvest your own Balsam, Spruce, or Scotch Pine Christmas tree as a family, or purchase a pre-made LIVE wreath.
- Extra activities include: Warm up by the fire with hot chocolate and homemade cookies, and take a tractor-drawn wagon ride!
Website: thomastreefarm.ca