Featured Events
Details

Category: Featured Events
Published:

Wednesday, 14 September 2022 13:00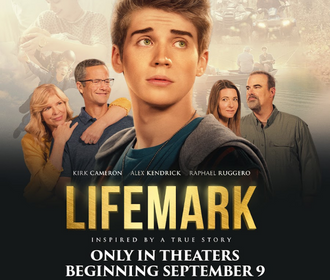 UPDATE: LIFEMARK has exceeded expectations at the box office and is expanding into a second weekend while adding new theaters.
Another faith film by executive producers Kirk Cameron and the Kendrick Brothers is coming to limited theatres on September 9th! LIFEMARK is inspired by an incredible story (as seen in the documentary 'I Lived On Parker Avenue') that celebrates the gift of life. It will only be available for one week, so you don't want to miss it!
LIFEMARK is the true story of a young man's journey as he sets out to meet his birth parents. With a talented cast, including Kirk Cameron, Alex Kendrick, Rebecca Rogers, Dawn Long, Raphael Ruggero, Justin Sterner, and Marisa Hampton, LIFEMARK is a reminder that one courageous decision can change everything.
David's comfortable world is turned upside down when his birth mother unexpectedly reaches out to him, longing to meet the 18-year-old son she's only held once. With the encouragement of his adoptive parents, David embarks on a journey of discovery that leads to a staggering truth from his past. From executive producers Kirk Cameron and the Kendrick Brothers—creators of WAR ROOM and FIREPROOF—comes LIFEMARK, based on an incredible true story that celebrates adoption, reconciliation, and love.
FOR GROUP SALES: To schedule your group screening, please contact This email address is being protected from spambots. You need JavaScript enabled to view it. for Cineplex Theatres OR This email address is being protected from spambots. You need JavaScript enabled to view it. for Landmark Theatres.
Watch the trailer for LIFEMARK, below!