Featured Events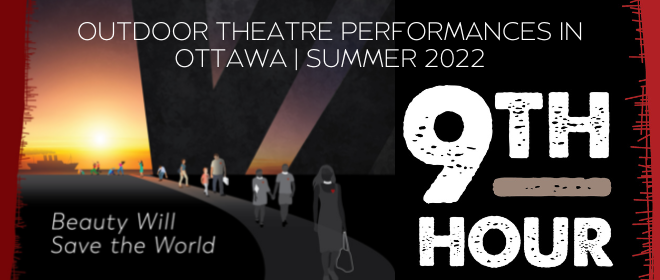 Tickets are now on sale for 9th Hour's brand new, original show! Enjoy an adventure packed, though-provoking play for the whole family this summer.
Beauty Will Save the World is a spiritual allegory for our time suitable for the whole family, a seafaring adventure packed with satire, music, action, laughter, and tears, reminding us about the sacred things in life that make life worth living. The story is a thought-provoking cautionary tale about the importance of passing on beauty to the younger generation. Relationships once lost are found again as mothers, fathers, lovers, loners, sons, and daughters are tested to choose what they stand for and who they will stand with.
DATES: Wednesday to Sunday evenings from July 8th - August 28th, 2022
TIME: 5 P.M., 6 P.M., and 7 P.M.
(When you go to purchase tickets, you'll select the date/time you would like to attend.)
WHERE: OUTDOORS at Remic Rapids Park (Sir John A. Macdonald Parkway, Ottawa, ON K1A 0K9)
COST: General Admission $30 | VIP Tickets $50 | 6 tickets for $150 | $35 at the door cash only.
Tickets are sold through the The Gladstone Theatre box office (this is NOT a Gladstone Theatre event) online, by phone (613-233-4523), or in person at 910 Gladstone Avenue, open Tuesday to Friday, 11am-2pm. Email the box office anytime This email address is being protected from spambots. You need JavaScript enabled to view it.. NOTE: Tickets can also be purchased on site before a performance, but at an increased price and by cash only.
What is 9th Hour?
9th Hour is a theate company, founded in 2009, and became a registered Canadian charity in 2012. The company's purpose is to explore, examine, and express the big ideas and questions relating to faith, spirituality, and the human experience, accomplished primarily through 'physical ensemble theatre' with an added emphasis on the creation, development, and production of original artistic works. Learn more, here.