Featured Events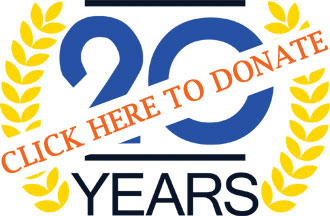 Join us THIS WEEK for our 20th Anniversary as we celebrate the past and dream about the future while taking time to share what God has done in the lives of our listeners.
CLICK HERE OR CALL 613-247-1440 TO MAKE A DONATION TO CHRI RADIO.
In 2017, CHRI is celebrating 20 years of Christian music in Canada's Capital! Thank YOU for supporting the music and ministry over the years.
Please be praying about how you can support CHRI during Anniversary Week March 20th to 24th.

Click the button to give securely online. No PayPal account required.
For other giving options, visit chri.ca/donate
KICK-OFF CONCERT with The City Harmonic (April 25th):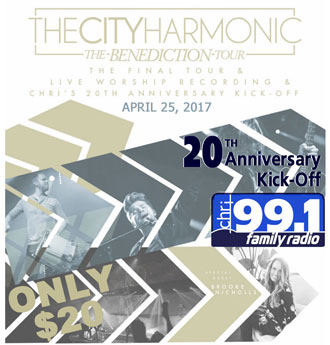 HISTORY:
In October of 1992 Dayna Dixon, an Ottawa teenager, swayed the powerful Canadian Radio and Television/Telecommunications Commission to allow music praising and worshiping our Saviour Jesus Christ to broadcast over the airwaves all across this country.
The CRTC Chairman from 1989 to 1996 Keith Spicer wrote in his book "Life Sentences": "I lobbied my colleagues hard to get them such (Christian) stations especially after that family's 16 year old daughter told us how hard it was just to be a young girl in a sex drenched society before you even found your own identity. She was not a prude or a fanatic; just a sweet kid and she reminded me of my own daughter."
That young woman was the daughter of Rob and Lynne Dixon who with their family and friends, appeared before that CRTC hearing on Christian Broadcasting then continued to volunteer their time and resources as CHRI went on the air in March of 1997.
This year we will be celebrating that amazing moment in broadcasting history and all those volunteers and employees of CHRI whose unique gifts 20 years ago are now being multiplied by the thousands with your own donations, time and prayers.
Today we see lives changed, families strengthened and the word of God spoken over our cities.
Thank you for trusting in God and thank you for giving to CHRI. We've come a long way in 20 years!