Events
Details

Category: Events
Published:

Wednesday, 23 November 2022 09:06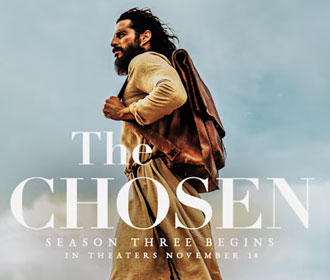 Well, the numbers are in...fans of the "The Chosen" came out in droves and made it #3 at the North American box office.
Out of the Internationals markets--Canada, the UK/Ireland, New Zealand, and Australia--Canada sold more tickets than the other markets combined.
Due to its success, the run in Canada (and a few other countries) has been extended—in our case, to November 30th, in select theatres.
Read more to watch the Official Theatrical Trailer.
FOR GROUP SALES: To schedule your group screening, please contact This email address is being protected from spambots. You need JavaScript enabled to view it. for Cineplex theatres OR This email address is being protected from spambots. You need JavaScript enabled to view it.
Synopsis: What now? After Jesus completes a sermon that turns the world upside down, all 12 disciples (including newcomer Judas) are ready to follow him to the ends of the earth. But problems remain. Matthew wrestles with estrangement from his family. Andrew visits an imprisoned John the Baptist. Mary and the women must find a source of income. Simon and Eden face the costs of following Jesus. Most importantly, the disciples face their biggest challenge yet when Jesus sends them out, two by two, to preach and perform miracles without him. Episodes 1 & 2 of Season Three pick up where Season Two left off, and in this unique theatrical experience, launch the most emotional and consequential season of The Chosen to date.