Details

Category: Uncategorised
Published:

Tuesday, 03 May 2022 10:49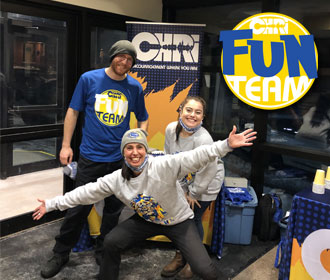 Hey you,
How are you? The FunTeam is coming back! Are you in?
May is proving to show much progress in the events area of CHRI and we are EXCITED!!!
Firstly, are you excited to be a part of an amazing team and get first dibs on some cool events?
Read more to see what's going on and find out how you can get involved!
Thursday, May 12th, is the National March for Life Rally at Parliament Hill. Dianne and Lydia will be walking the rally, beginning at 12:30 P.M. We would love to have you join us in representing CHRI at the event!
Saturday, May 14th, is the Arlington Woods Bike Rodeo at 225 McClellan Rd, Nepean. Brock will be DJing the day! The event begins at 11 A.M. and runs until 3 P.M. We will set up at 10 A.M. This is a really fun event, with lots of kids on bikes and family interactions. It is outside, unless it rains, then we will likely condense it indoors. It has been a blast every year we have been involved!
Next Friday, Saturday and Sunday, May 20th-22nd we are at the Ottawa Children's Festival at LeBreton Flatts (1 Vimy Pl. War Memorial). Another wonderful event filled with many interactions with young families who do not know CHRI. We will be bringing lots of games and prizes for attendees. We set up each day at 9 A.M. and tear down around 5 P.M. This is a big commitment weekend and assistance is very much needed, especially for set up and tear down.
We are looking for new members on our team; if you love the Lord, love CHRI and are interested in having fun, or know others who might be interested, please let us know by downloading the Application Form here (PDF) and returning it to Lydia Paulino at This email address is being protected from spambots. You need JavaScript enabled to view it., or call 613-247-1440 x 125 for inquiries.
Looking forward to hearing from you!