Blog
Details

Category: Blog
Published:

Friday, 18 August 2023 13:26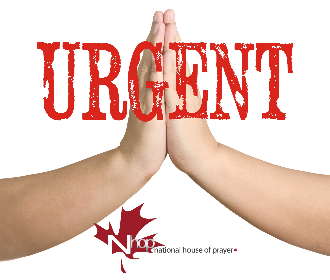 Last Spring the National House of Prayer (NHOP) called for a National Prayer alert for the fires in Fort St. John and Northern BC and Alberta. They saw immediate responses from their prayer partners and intercessors across the nation. Many miracles were reported.
NHOP is calling on us once again to pray for areas affected by wildfires. In BC, Kelowna and West Kelowna are under states of emergency. As well in the Northwest Territories, Yellowknife has issued an evacuation order..
On Tuesday August 22, 2023, our National Prayer call will focus on praying for these communities affected by wildfires.
Please join them at 10am ET. Use the NHOP ZOOM link.
Prayer Points
Pray for Northwest Territories. All of Yellowknife has been asked to evacuate. Population of NWT is only 46,000 but 65% is expected to be evacuated.
• Pray for rain and then more rain.
• Pray for all evacuees as they move to safety. There is only a single 2-lane road from Yellowknife to Alberta and the drive is a long one. With so many leaving at the same time, the roads may be jammed. Pray that there would be ample supply of fuel at gas stations for vehicles.
• Some will leave by air. Airlines have added more flights to accommodate the heightened need.
• Pray for Alberta as they prepare to receive evacuees. They have set up several host communities for anyone who needs supports and accommodations. Pray for God's blessings on Alberta for their generosity.
"And do not forget to do good and to share with others, for with such sacrifices God is pleased."
Hebrews 13:16
• Pray for those who cannot sit for long periods in cars that there would be abundant supports to get them to safety. Pray for those with respiratory ailments as the smoke would be thick because the fire is so close.
• Pray for Premier Caroline Cochrane that she and her team would be given wise advice regarding fighting the fires and getting people out of harm's way. Pray for Premier Danielle Smith and her team as they prepare to receive such a vast number of people in such a short period of time.
Pray for British Columbia. The province has been fighting fires all summer.
• The heat and the drought have exacerbated the situation. Continue to pray for abundant rain.
• Pray for Kelowna and West Kelowna. Both cities have declared states of emergency and issued evacuation orders.
• Pray for firefighters. It's not safe for them to fight the fire from the ground and those fighting from the air cannot work in the dark. This means that fires can grow overnight.
• Windy conditions are forecasted over the next few days which would worsen the conditions. Pray for calm winds and lots of rain. Just as He answered Elijah's prayer, may He send the rains and bring restoration of hope to this parched land.
"And Elijah said to Ahab, "Go up, eat and drink, for there is a sound of the rushing of rain."
1 Kings 18:41