Blog
Details

Category: Blog
Published:

Monday, 13 March 2023 11:06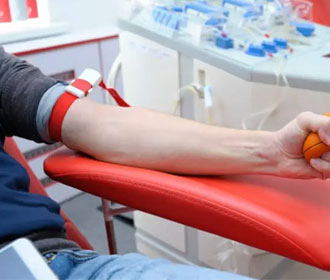 Blood. It's a central theme in the Christian faith. Coincidentally, as we reflect on the suffering and death of Jesus this Easter, Ottawa faces a critical shortage of blood for emergency transfusions. The pandemic reduced the Canadian Blood Services' donor base by 30 percent—its lowest rate in a decade. Many donation centres are operating below 50 per cent capacity and it is not sustainable. [...]
(Photo by Yurii Zushchyk | Adobe Stock.)
"When I heard about the critical shortage of blood, I immediately thought about trying to mobilize Ottawa's Christian churches in a mass blood donor event for Easter," says Edward Ng of Emmanuel Alliance Church. Ng shared his vision with One Way Ministries and CHRI Christian Radio, which both enthusiastically embraced the vision.
"This is an opportunity for the Church in Ottawa to say we care and we will help meet this critical need," says Love Ottawa director Gabe McReynolds. "It's a practical way to love Ottawa."
"Blood donation has practical and theological significance for us, as Christians," McReynolds adds. "Jesus willingly shed His blood for us 2,000 years ago. Today at Easter, during a crisis, we have an opportunity to respond."
Caroline Baldwin, CHRI's Director of Promotions and Marketing agrees. "CHRI has been looking for a regional project like this to adopt, and a blood drive at Easter is perfect! Besides promoting the event on-air throughout the Ottawa region, the CHRI Fun Team will be at the Carling Donation Centre to help celebrate the final day of the Drive on April 8 with music, games, and prizes."
Canadian Blood Services is delighted to partner with churches for events like this, says Jennifer Rose of Canadian Blood Services. "In the past, we've benefited from strong partnerships with many local churches. But more donors are needed in the coming months to restore Ottawa's blood supply to an optimal level. The demand for blood and blood products, like plasma, remains constant."
From cancer patients to accident victims and people with chronic and genetic conditions, there are people across Ottawa who rely on blood, platelets, and plasma donations every day. The service especially needs blood from O-negative donors, as their blood can be transfused to any patient. For newborns and in emergencies, O-negative blood (the universal blood type) makes a lifesaving difference.
Ng says this campaign is for all Christians. Even if someone can't donate blood, they can work as a volunteer at one of the clinics.
"Society today is un-churched," he adds. "Canadians don't see much relevance in God. But the Church is alive! What a great opportunity to stand up as one body, to demonstrate God's love in a practical way."
Love Ottawa set up a special website for those who want to take part. Simply register for a blood (or plasma or platelet) donation under the Love Ottawa campaign team. The Easter donation dates are between April 1 and 8, the two Saturdays before Easter. Make your donation at the Canadian Blood Services Carling site for all blood products (e.g. blood or plasma), or at their Orleans site for plasma.
Before donating, make sure to read the important guidelines at blood.ca.
"I feel God is telling us that He cares about this shortage," Ng says. "He wants His people to do something publicly about it. You might even save someone's life."
Article written by Allen Macartney, Spur Ottawa