Blog
Details

Category: Blog
Published:

Tuesday, 07 February 2023 07:00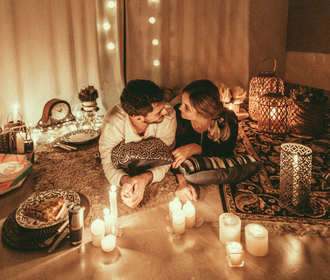 Based on 2022 numbers, the average person who participates in Valentine's Day will spend roughly $175.41 on a gift! If I'm being honest, I would prefer my husband didn't spend money on me. We have bills to pay! LOL
While I don't think gifts are necessary for the holiday, I do think it's important to do something together to mark the occasion. Even if it can't be on the 14th, be intentional about taking time together as a couple or as a family.
If you're looking for cheap (*achem, pardon me, I mean "budget-friendly") date ideas, read more.

Dinner and a Movie at Home. Include each person's favourite food or snacks, or some red and pink Valentine's snacks like these.

Go for a drive without a plan. Hit the road and flip a coin when you reach an intersection to decide whether to turn left or right.

Have a Game Night. Our Producer Will has recommendations here: youtube.com/cardboardminute

Cook Dinner Together.

Do a Paint By Numbers.
And if you will be with your kids for the big day, all of the above can all be adapted to involve them too!
I did something pretty romantic (if I do say so myself!) for my husband a couple of years ago. Indoor camping! I put our mattress on the floor in our family room, made a blanket fort, hung up strings of lights, and we ate campfire-style food and s'mores by lantern-light then we watched a movie.
Valentine's Day doesn't have to be expensive. If it's a celebration of the people you love, the ideas are endless! What are your ideas?
- Care