Blog
Details

Category: Blog
Published:

Tuesday, 01 November 2022 11:02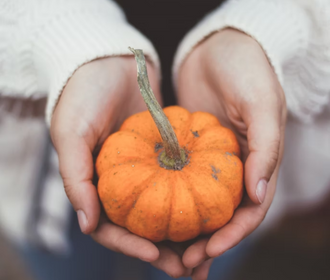 Pumpkins create a lot of waste, with millions of tonnes of usable gourds sent to landfills annually! But did you know, there are several ways to dispose of your pumpkins that DON'T involve throwing them in the trash?!
Read more for five things you can do with your leftover pumpkins!
1. MAKE A MEAL
Make a pie or some bread with all the bits of your pumpkin! Seeds can be roasted and eaten as a snack, on their own, or incorporated into a salad. (This is not recommended for a carved pumpkin, especially one that's been sitting out for a few days. That's because they can become contaminated with pathogens, making the pumpkin unsafe to eat.)
2. DONATE IT
As another alternative, pumpkins can be given to a local farm or zoo for the animals to enjoy, if donations are accepted. Some local animal sanctuaries will also accept pumpkins. Once you've found a place, you'll want to call ahead or check the website to ensure the organization is accepting donations.
3. THROW IT IN THE COMPOST
Pumpkins are great for composting. Just make sure you wipe off any paint or wax and remove the candles before adding it to the bin. Chopping it up or smashing it beforehand will help it decompose faster. If you don't compost, you can bury the pumpkin in your garden. It will decompose quickly and provide nutrients for the soil.
4. FEED THE BIRDS
Many birds will eat pumpkin seeds, and some animals will eat the leftover flesh. You can cut up small pieces and leave seeds in a bird feeder or leave pumpkin bits in your backyard. You may also want to consider bringing some to a wooded area and sprinkling some bits around for animals to find.
If you're crafty, you could cut your pumpkin in half so takes the shape of a bowl, attach some strings, and fill it with bird seeds. Voila -- an instant, bio-degradable bird feeder.
5. TURN IT INTO A PLANTER
Fill your pumpkin with soil and add some seeds or plants. You've got yourself an instant plant pot! As the pumpkin decomposes, it will add nutrients to the soil. If the planter starts to look unsightly, you can put the whole thing inside a larger, traditional pot.
SOURCE: theweathernetwork.com