Blog
Details

Category: Blog
Published:

Wednesday, 01 June 2022 12:32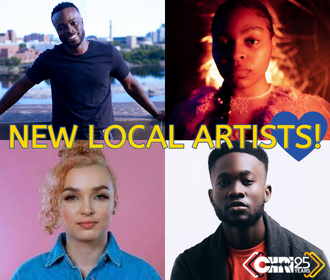 Ottawa artists are making a splash in the industry right now! This summer is going to be bumping with local music because we have just added songs from FOUR local artists on CHRI! Read more to learn about these artists and hear their latest singles.
Kofi Khae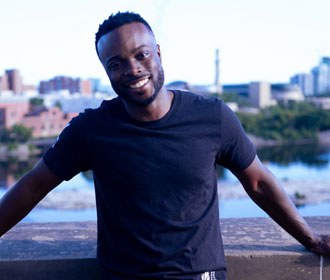 Kofi Khae is a hip hop recording artist from Ottawa, Canada.
The son of African immigrants, Kofi grew up in the suburbs of the nation's capital with unwavering drive and an appreciation for clever wordplay. He quickly learned that the beauty and evocative power of hip hop is often obscured by the fact that its leading figures use the art form to tear down rather than build up. Determined to introduce something positive, he released two independent records and gained local notoriety before taking an indefinite hiatus. After completing three degrees and starting a career and family, he has returned with newfound perspective and a renewed commitment to purpose and authenticity. His newest song "Worthy" featuring Chris Rio (below) is now playing on CHRI!
Website: kofikhae.com
Instagram: @kofikhae.music
Chris Rio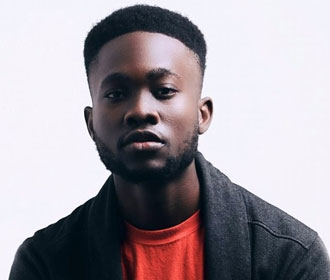 Chris Rio is an R&B singer from Delta, Nigeria who now lives in Ottawa, Canada. He has released two EPs, "Unveiled" in 2015 and "Ife" which means love in 2020. He was a top 8 finalist on The Voice Nigeria in 2017, and his songs have been featured in some hit Nigerian TV shows like This Is It, Hunter's Game and more. The fan favorite love song "This Dance" has been the choice song for dozens of couples' first dances at wedding receptions in and around Western Africa and has since 2018 gained about a quarter million streams across various streaming platforms. His collaboration with Latin artist 'Fernando H' recently earned him an international award nomination in El Salvador. His songwriting often revolves around topics like faith, love and purpose, and he blends musical genres to showcase his versatility as a writer and a singer. He also actively sings in the choir at Lifecentre church, Orleans, here in Ottawa. He has been married to his childhood sweetheart, Kosi for 3+ years and they live together in Ottawa. Outside of work, Chris' interests include playing tennis, travelling, real estate and board/card games.
Twitter: @ChrisRio_
Instagram: @chrisrio_
Facebook: facebook.com/chris.rio1
Kofi Khae and Chris Rio collaborate on their newest single, "Worthy". Listen and watch the Official Music Video, below!
Daphne Richardson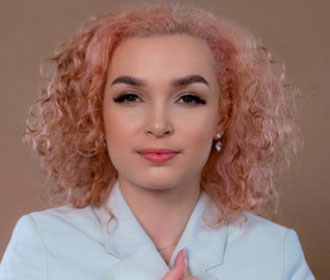 Daphne Richardson is a Christian Recording Artist, Worship Leader, Vocal Coach & Mental Health Advocate born and raised in Ottawa. She is the oldest of three children, and is of Jamaican and English Canadian descent. She comes from a musical family, finding a love for music at a young age. She gave her life to Christ at the age of 16, even though she experienced a lot of backlash from her family and was banned from going to church until she was 18. She decided she would make Christian music as a result of her faith and started leading worship at her Church. Daphne is a powerful performer who brings energy and authenticity into all she does. Her contagious passion matched with her strong soprano voice creates a unique worship experience. Daphne released her first single "You Found Me" in February 2020, marking the start of her professional career, and has gone on to release several more singles, and recently came out with her first EP, Authentic.
Twitter: @DaphRichM
Instagram: @daphrichm
Facebook: facebook.com/daphrichm
Daphne's newest single is called "Eternal Eyes", featuring CalledOut Music. The two of them will be playing in Ottawa at EDEFORDS this July! Find out more, here. Listen to "Eternal Eyes", below.
Gold Mist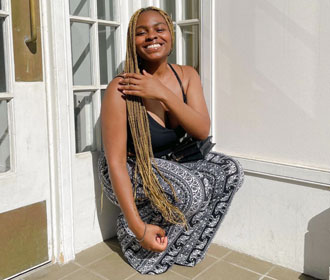 Gold Mist, born Dahnley-Patrice Xavier on September 9th, 1998 in Montreal, Quebec, is a Canadian singer and songwriter. She moved to Ottawa at the age of six and grew up in a family of seven, of which she happened to be the second oldest. Her passions include singing, piano, cello, sewing, and the Lord.
Here is her story behind her new single, "Love Letter": "I wrote this song following some major falling points in my life. I didn't feel as close to God as I should've been and I was trying to reconnect with him. One day, I sat down and started to write down words of comfort that seemed to be coming from God himself. I think anyone can relate to the message of that song. We all have to be reminded that the love that God has for us is infinite. The song is called 'Love Letter' because once I was done writing the song, it felt like God wrote it specifically for me. Through that letter he reminded me that he did the most. He died for me and if he had to, he would do it all again."
Twitter: @Gold__mist
Instagram: @gold.mist
Take a listen to "Love Letter", below!