Blog
Details

Category: Blog
Published:

Sunday, 12 December 2021 08:00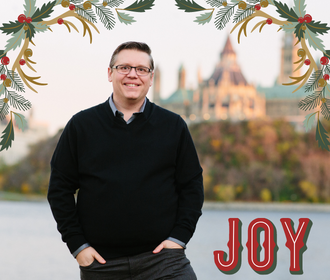 As we continue to look forward to celebrating Christmas, the birth of Jesus, our anticipation and excitement grow. The Christmas songs we sing in church and the scriptures we read and reflect upon help us remember that miraculous first Christmas. We think about the time we will spend with family and friends, the gifts we will give and receive, the delicious traditional meals and treats we only have once a year. All these memories and activities bring comfort and joyfulness to our hearts as we wait these last few days before Christmas. But after the gifts are gone, the leftovers are eaten, and we've said goodbye to our loved ones. Will your joy still be there?

The focus of Advent this week is joy. And even as I write this, my autocorrect is offering suggestions to replace the word joy with "happiness," "pleasure," "satisfaction." Still, none of those words adequately describe "joy" as it pertains to the life of a believer. Biblical joy isn't a feeling; it isn't caused by our situations or fleeting emotions. Instead, it is a state of being. That doesn't mean we don't feel sad or struggle with our emotions; it's a deep-down understanding or belief that our relationship with the Father is restored. Our joy finds its source in God; it's the result of what He has done and what He is doing in our lives and in the world. He fulfilled His promise and sent His son Jesus on Christmas.
"An angel of the Lord appeared to them, and the glory of the Lord shone around them, and they were terrified. But the angel said to them, "Do not be afraid. I bring you good news that will cause great joy for all the people. Today in the town of David, a Savior has been born to you; he is the Messiah, the Lord."
Luke 2:9-11
"being strengthened with all power according to his glorious might so that you may have great endurance and patience, and giving joyful thanks to the Father, who has qualified you to share in the inheritance of his holy people in the kingdom of light."
Colossians 1:11,12
So when the friends and family are gone, the food is eaten, and the new gift you received is worn out or not as shiny as it used to be. Will you still have joy?
This Advent, as we anticipate Christmas, be joyful, show others amid the hustle and bustle of the modern Christmas season your joy because Christmas was only the beginning of what God is doing.