Blog
Details

Category: Blog
Published:

Monday, 13 December 2021 12:40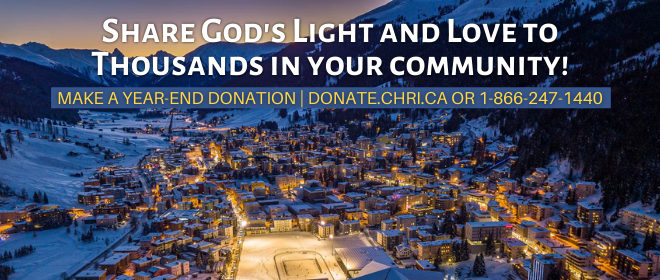 Please read the letter below from Bill Stevens on behalf of the team.
If you have donated to CHRI this year, you will have received this letter in the mail!
We can't thank you enough for all the help you've been this past season. Whether it's by making your donation to help us grow, praying for our protection or simply listening with us. (Of course we listen too!) We truly do love that you're here with us. Thank you.
And, speaking of love, isn't Christmas the greatest love story of all?
John 3:16 "God so loved the world that He gave His one and only son that whoever believes in him shall not perish but have everlasting life."
That is the first and greatest Christmas gift and it's led to centuries of our giving to one another and back to Him.
So remember when you're listening to us, that through our connection with Christ, we're listening to your heart. We hear you laugh and cry with us, pray and serve with us and together we're stronger.
Together we can reach into more hearts and homes with this simple message: Jesus came so we would know Him and know that He loves us.
With loads of His love continually pouring over us all, we pray that this will be a special Christmas for you...with a promise of greater things to come.
Thank you for supporting the ministry of CHRI!
Love,
Bill Stevens, on behalf of the CHRI team