Blog
Details

Category: Blog
Published:

Sunday, 19 December 2021 03:00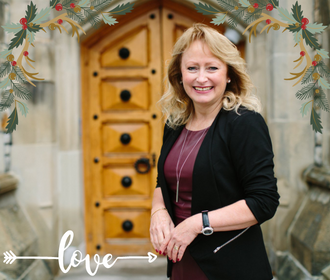 Advent is such a wonderful season in advance to the celebration of Christ's birth. It's a time of preparing our hearts and minds as we focus on the true 'reason for the season' – Jesus Christ. Each week of Advent shines a light on Christ and has a very specific focus. This week is Love. I believe that since the beginning of time God has been displaying and speaking His love to all mankind. Every part of creation shouts of the invisible hand of God behind it. His love speaks to us in the beauty and majesty of all His creation. But what does His love mean to me? Can His love be personal? For me? For you? Have you ever thought about that?
In reflection I know with certainty that God has pursued me my whole life. Even as a child and then a teenager I was longing for and wanted to get closer to God, but I didn't know how. He was way up there and I was down here. As an adult I recognized I had this void inside of me that could only be filled by God, but I didn't know how to "get God".
For God so loved the world that He gave His one and only Son, that whoever believes in Him shall not perish but have eternal life. John 3:16
One afternoon I was sitting in my living room reading a bible and Christ came alive to me. In an instant, it was like a light went on in my brain and I understood with such clarity that He Was Alive! And that He Loved Me! Every part of my mind was illuminated by this light and knowledge. I knew then and know now, with absolute certainty, that Jesus is Alive. His loved flowed over me in that moment so many years ago and has continued all the years since.
This is love: not that we loved God, but that he loved us and sent his Son as an atoning sacrifice for our sins. 1 John 4:10
His love has continued through every trial and every mistake I've made, both past, present and I know for the future. All the ups and the downs, failures, hardships, successes, joys and sorrows. He has constantly reminded me with scripture and given me assurance that His love is greater than all and I can trust in Him. He has truly walked with me, even when I didn't know or realize He was there. I can say from experience that He is my comfort, my strength, my hope, my salvation and He loves me!
Neither height nor depth, nor anything else in all creation will be able to separate us from the love of God that is in Christ Jesus our Lord. Romans 8:39
Please know, His love is not an abstract thing or a warm and fuzzy feeling. He is love! He is the author and perfecter of faith and my friend, He loves you too! This Advent and Christmas season I pray you will know the love of the Father, that is in Christ Jesus, in a very real and maybe even deeper way and live every moment with this truth in mind. May His love wash over you, cleanse you, heal you, restore you and fill you to overflowing, that you may be transformed into the image of Christ and be used by Him to bring Him glory in all of who you are and what He has purposed for you. Yes, we have much to celebrate today and every day and I am so very thankful for His love! Merry Christmas with blessings.
Dear friends, let us love one another, for love comes from God. Everyone who loves has been born of God and knows God. Whoever does not love does not know God, because God is love. This is how God showed his love among us: He sent his one and only Son into the world that we might live through him. This is love: not that we loved God, but that he loved us and sent his Son as an atoning sacrifice for our sins. Dear friends, since God so loved us, we also ought to love one another. No one has ever seen God; but if we love one another, God lives in us and his love is made complete in us. 1 John 4:7-12