Blog
Details

Category: Blog
Published:

Thursday, 14 October 2021 17:18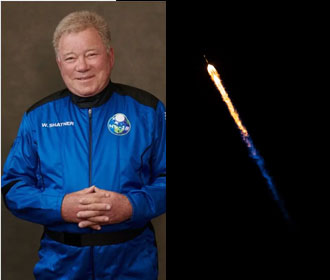 Minutes after returning to earth from his spaceflight, Canadian actor William Shatner shared how the experience impacted him. Did God reveal Himself to Shatner in those 10 minutes? Care discusses what she has come to believe about Shatner's words and experience on the Home Stretch.
"What you have given me is the most profound experience. I'm so filled with emotion about what just happened. I just, it's extraordinary, extraordinary. And I hope I never recover from this. I hope that I can maintain what I feel now. I don't want to lose it. It's so much larger than the knee of life. And it hasn't got anything to do with the little green planet, or blue orb. It has nothing to do with it. It has to do with the enormity, and the quickness, and the suddenness of life and death. Though I can't even begin to express...what I would love to do is to communicate as much as possible the Jeopardy, the moment you see the vulnerability of everything...it's so small. This air which is keeping us alive, is thinner than your skin. It's a sliver. It's miserably small when you think in terms of the universe. It's negligible, this air, Mars doesn't have it. And when you think when carbon dioxide changed to oxygen, what is it 20% of some of that level that sustains our life...it's so thin, to dirty it, I mean, that's another whole new subject. 50 miles and you're just death. This is life. And that's death, and it's in an instant you go, woah, that's death. That's what I saw." - William Shatner, NBC News
On the Home Stretch, Care Baldwin shared the clip and sad, "That's amazing. So like, did God revealed himself to William Shatner up there? I choose to believe that He did. I want to believe that He did. And I think as a Christian, as a believer, I listened to this clip, I hear what he's saying. I hear that He had spiritual experience. Like that, for the first time in his life, William Shatner had a revelation about how small and insignificant we are compared to the vastness and the magnitude of God and His creation. So I just want to invite us to pray. Would you pray that God continues to show Shatner evidence of his beauty and His Majesty, and that maybe he seeks to understand what he experienced on a deeper level? And we can pray that a trusted Christian in his life would reach out to him and lead him through this revelation. What a crazy, cool thing to hear and to witness, and I do again, pray that we get to see more on this journey for Mr. Shatner."