Blog
Details

Category: Blog
Published:

Monday, 03 May 2021 10:00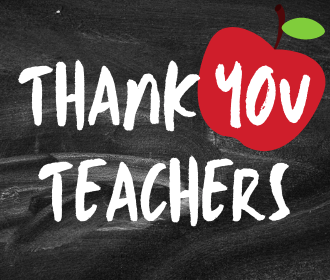 It may have been a while since your child was in a classroom, but teachers have still been working hard to educate students in new ways and adapt to ever-changing learning plans and rhythms.
Here are a few ways you can show love and appreciation for teachers during this time of social-distancing...
1. Give them a shout-out – Send out a Tweet or post on your Facebook. You can even comment below the post at Facebook.com/CHRIradio by tagging a teacher you want to let know you're thinking of them this week.
2. Send them dinner – Buy an e-gift card for Skip the Dishes or UberEats or, better still, order one directly from their favorite restaurant and have it sent to their email. Everyone enjoys a night off from cooking! You could even pitch-in with a couple other parents from your child's school to get them a few GoodFood boxes.
3. Buy them flowers – If your child's teacher has a green thumb, a thoughtful gift would be flowers or veggie starts from a local nursery or garden centre.
4. Send a video message from your kids - Just as much (or more) as your kids are missing school, your child's teacher is missing your kids! Ask your kids what they love most (or miss most) about their teacher and email it to them. (TIP: Even if you choose to do one of the other ideas, do this one, too. Your child's teacher will love it!)
5. Mail a card and/or a drawing - Everyone loves fun mail and an encouraging note would be a kind gesture.
6. Gift them coffee – You can't go wrong sending a teacher a coffee gift card! You might even be able to do it entirely by e-mail ; ) (TIP: If your teacher isn't in to coffee, did you know Stella Luna Gelato Cafe offers e-gift certificates??!)