Blog
Details

Category: Blog
Published:

Tuesday, 04 July 2017 13:29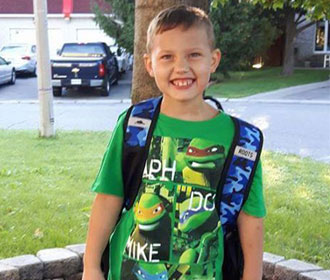 Prayer Request: Hayden is a sweet, resilient, and energetic 8 year old. In 2012, Hayden was diagnosed with a rare form of severe refractory Epilepsy with CSWS as well as frontal lobe epilepsy.
Thankfully he has an amazing team who works and supports him and his family! Hayden has spent countless hours at appointments, surgeries, hospital stays, and testing and has been on 26+ medications to try to control his seizures. Hayden has spent time in ICU fighting for his life but is strong and resilient and God has proven everyone wrong many times. In 2016 he received a Vagal Nerve Stimulator in hopes of decreasing his seizures. His seizures have started to decrease praise God!

Due to the forms of epilepsy, Hayden has absolutely no fear or concept of danger. A service dog will help keep Hayden safe as the dog will be tethered to him. The seizure response service dog will also help greatly by responding to Hayden's seizures and possibly alerting to them!

Hayden's epilepsy puts him at risk when asleep as many seizures occur during his sleep. Having a seizure response dog will be very comforting for the whole family as the dog will stay with Hayden at night.
We are blessed that Hayden has been accepted on the K4Paws wait list for a seizure response dog! His family is asking that you make a donation in Hayden's name to help raise funds required to train a service dog. Please pray for complete healing and for strength for the family!
More details can be found here: http://kingstonservicedogs.ca/hayden-from-orleans
Make a donation to help Hayden get a service dog: https://www.gifttool.com/donations/Donate?ID=2248&AID=4761