Articles
Details

Category: Authors
Published:

Monday, 24 January 2011 10:31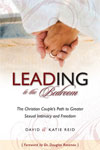 David & Katie Reid help couples regain the intimacy they were made to experience. An incredible guide to freedom for so many marriages.  
Click here
 to listen to Brock's interview with David Reid co-author of "Leading To The Bedroom: The Christian Couple's Path To Greater Sexual Intimacy And Freedom" from this week's 9:00am Wednesday Bookmark, brought to you by Salem Storehouse!    

20% off! Call 613-727-0203 to reserve your copy or visit Salem Storehouse (1558 Merivale Rd, 839 Shefford Rd or 315 Lisgar St)  Offer only valid for one week from the interview date. 

What God has given David and Katie is a treasure-trove of sound biblicial truth and wisdom on what functional intimacy is meant to be within a marriage.  If you are engaged, just got married, or have been married for twenty years, this book will be a revelation of God's ultimate guide to an intimiate fellowship with your spouse.
Our Adversary has stolen the uninhibited, unashamed sexual intimacy God provides in marriage. In order to gain back the intimacy we were made to experience, Christian couples must LEAD to the bedroom.
The first step, Learn about your mate, is to communicate with your spouse to understand what each partner desires in sexual intimacy.
Next, both partners must Experience the gospel by repenting from false beliefs and sin and believing the truth about what God has provided for enjoyment and greater oneness.
Next, couples must Set an Action Plan to apply this truth in their lives. Intimacy action plans include demonstrating agape commitment, courting that meets emotional needs, increasing frequency of sex, as well as improving sexual fun and freedom. All of these are progressive steps toward greater oneness.

Finally, a couple must Do it and Repeat, continuously progressing and following through in the process of achieving greater sexual intimacy in their marriage.