99+1 Days of Summer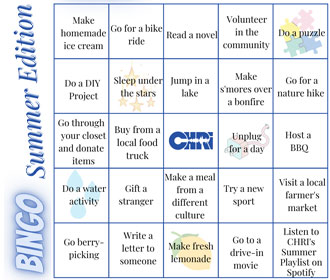 There's only a couple short weeks left until school starts back up, and schedules pick up again. It's time to check up on the summer bucket list! How's that BINGO card coming along (you know...the one we sent you way back at the beginning of 99+1 Days, that now feels like forever ago)? Look over it, see what's missing, and try to check off all of your unmarked boxes before the summer is over!
Click here to download or print our a CHRI Summer BINGO card.
Tag us on Instagram, Twitter or Facebook @CHRIRadio once you've completed a row or the whole card!