Contests
Details

Category: Contests
Published:

Saturday, 02 October 2021 12:00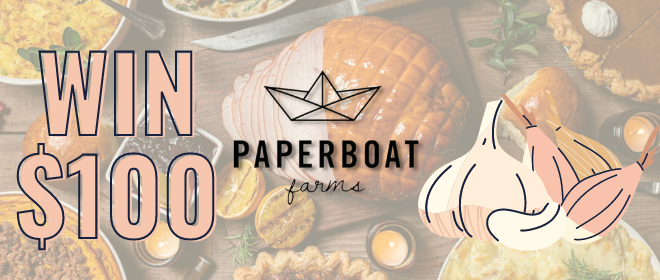 If you're a foodie or a cook, you will likely want the freshest ingredients to use when making home-cooked meals. This Thanksgiving, make a delicious family dinner made with fresh, organic garlic, with the help from CHRI Radio and Paperboat Farms!
Prize: $100 Gift Card to Paperboat Farms
How: Listen to both the Morning Express (7-10 A.M.) and the Home Stretch (3-6 P.M.) every day this week for your cue to call in and tell us about your favourite Thanksgiving dish.
Details: Only one winner per household.
Paperboat Farms:
- Paperboat Farms is located at 15985 Rush City Rd, in Newington, ON (40 minutes southeast of Ottawa)
- They offer:
• 20 varieties of garlic to choose from ranging in different levels of spice and flavour.
• Culinary garlic and seed garlic
• Black garlic (a garlic that is aged while the temperature and humidity are regulated over a course of a few weeks. The garlic that is produced has a complex set of flavours, with a date like texture. )
• Roasted scape salt, scape powder, garlic powder, and scape flakes.
• Fresh garlic scapes in July
• Garlic braids
• Garlic decor (ie, wreaths, centrepieces, and bouquets)
• An online store that ships across Canada, curb side pick up, and have a farm store on our property
Website: paperboatfarms.ca
Fun Facts About Garlic:
- There are more than 450 varieties of garlic. Paperboat farms grows 20 different varieties.
- Garlic is one of the oldest food flavorings
- Garlic can grow to the height of 120 centimeters (4 feet)
- Color of the bulb depends on the variety
- Ontario grown garlic can be stored for up to a year
- There are hardneck garlics and softneck garlics
- Hardneck garlics push out a flower, which is often referred to as a scape. It is harvested in late June and can be eaten as well.
- Garlic needs an inch of rain a week until the summer solstice
- Garlic is planted in the fall.
- Garlic needs the cold weather in order to split into multiple cloves
Keys to Storing Your Garlic:
- Never put in fridge
- Store in a place with constant air flow
- Steady temperature
- Out of direct sunlight
- Steady humid