Events
Details

Category: Events
Published:

Wednesday, 13 October 2021 15:12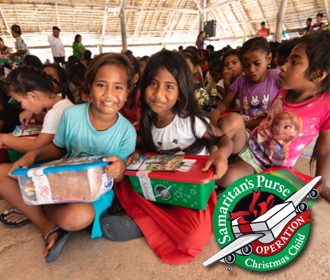 Bless children in need this Christmas with a shoebox full of gifts that share God's love and hope. With Operation Christmas Child, an initiative of Samaritan's Purse, each gift-filled shoebox is packed, donated, and delivered to one of hundreds of drop-off locations throughout Canada. For full instructions on how to pack and deliver your shoebox, click here.
You can also pack and donate a box online, at packabox.ca. Hand select what items you would like to go in the box, or donate a set amount and have them pack a box for you!
National Shoebox Collection Week is Nov. 15-21: Each gift-filled shoebox packed, donated, and delivered to one of hundreds of drop-off locations throughout Canada by Nov. 21 will make a long journey into the arms of a child in need.
About Samaritan's Purse
Samaritan's Purse is a Christian relief and development organization that takes its name from Jesus Christ's biblical story of the Good Samaritan. Like that Good Samaritan, who found a beaten man and helped restore him, Samaritan's Purse aids victims of war, disease, disaster, poverty, famine, and persecution. Besides Operation Christmas Child, their work includes providing safe water, vocational skills, and agricultural supplies and training to families in the developing world. Visit SamaritansPurse.ca for more information.

As children in need receive their Canadian shoeboxes, Samaritan's Purse will proclaim the Good News of Jesus Christ in three ways:
1. When it is culturally appropriate, they present the Gospel to all children at shoebox distribution events. Many parents or guardians attend these events and also hear the Good News.
2. They offer children The Greatest Gift, a colourful storybook that shares the message of salvation. The booklet (available in more than 80 languages) shares 11 Scripture stories and invites children to follow Christ. Shoebox recipients can take The Greatest Gift home to share with family and friends.
3. When possible, they invite each child who received a shoebox to participate in The Greatest Journey, their 12-lesson evangelism and discipleship program. After finishing The Greatest Journey, children attend a graduation celebration where they receive a certificate and a New Testament in their language. It is often the first copy of God's Word the child or their family have ever owned.
During the last 12 years, God has used The Greatest Journey to bring more than 13 million children to faith in His Son. In many cases, God works through these children to bring their parents and siblings to faith in Christ.