Testimonies
"God bless you all. I love CHRI. I listen everyday!!!!" - Radina
"May God bless your radio station because you really touch peoples' heart and souls!" - Rachelle
"Whenever I come into town the first thing I do is tune to 99.1 FM! You guys do a great job and the music you pick always lifts my spirit!" - David
"Thank you for your awesome radio ministry but also for keeping Ottawa up to date on the Christian & family-friendly events going on in our capital." - Nadia
"I am just loving the Saturday night show [On Air with Manafest]! Great addition with Manafest!! Love it!! " - Colleen
"God bless you CHRI! You are such an instrument of encouragement and support!" - Kim
"Thanks Care, for being a blessing on the air, so used to your voice when I'm driving home from work. You guys at CHRI are a real family. Love you all!" - Emmanuel
"Just a quick note to say what a great email [eMagazine] that CHRI sent out today... full of great content! Love it. Very positive, uplifting and topical!" - Brent
"Love the radio station - listen to it all the time. I especially like the various afternoon Bible teachings." - Celine
"I am really enjoying hearing songs and artists I have not heard before. It is inspiring and keeps the listening experience fresh and uplifting. Thanks for mixing it up!" - Bonnie
"Wow. Just discovered CHRI on my cell phone. Now listening to music and looking at new songs. So awesome and nicely done!" - Tara
"Thank you for the good programming and excellent music! May God bless you and continue to provide so that you may continue to draw more people closer to God." - Dan
"Thank you for the great music; I listen on my way to work and sometimes on my computer." - Gus
"Thanks for the uplifting music you play. Each note brings glory to God and I love being in a city that offers hope through a radio station... A true rarity across the airwaves." - Katrina
"I love listening to CHRI online now that I live in Charlottetown" – Ryan
"A big thank you goes out to Brock Tozer and the entire CHRI family and all my supporters in Ottawa, Canada and beyond." - Scott Towaij (artist)
"Thank you for being used this morning by the Lord to bless me and my son for the Promise Keepers tickets. Thank you for your great ministry and may God bless you and your family." - Jacques
"So thankful for the gift of CHRI in my life. What a beautiful voice in the world that so needs to hear encouragement and be told that God loves You." - Lab
"Our family moved from outside Calgary, where there is a good Christian radio station, so we are thrilled that there is a good Christian station here to listen to that plays the good rockin' music that we enjoy." - Shanda
"CHRI is the only station I listen to. I love listening to Odyssey. Very cool. Keep up the good work." - Sarah
"I love listening to you guys Live on the net from Sault St. Marie." - Sylvain
"Great station as usual guys. Keep it up. Love Care, really up close and personal with listeners, and Beth Warden, like a warm hug of hot chocolate. . Love the contests and especially look forward to your Newsletter." - Melanie
"I love listening to your station; I now listen to nothing else." – Natalie
"Hey CHRI team. I totally praise God for you all the time. You guys are such a blessing." – Daniella
"I want to say that I love listening to 99.1FM. It's a radio station that I can rely on to be clean and family friendly. Thank you for being such a great radio station." – Bethany
"I learned so much throughout the years from listening to the bible teachings, attending the concerts and through the dedication of the wonderful people who work and do the broadcasts at CHRI." - Judy
"We have different trails and challenges; be it work, personal life or our beliefs. But through all of this, we can be comforted by CHRI, through the inspirational programs and speakers and with various song segments." - Harry
"Your station has impacted my life with wonderful messages from your daily devotional hours in the afternoon, to Focus on the Family, to health and financial fitness. I cannot say enough.. " - Susan
"We just moved here in June from Montreal and we LOVE having a Christian radio station to listen to. Our whole family has been blessed by the music and programming that your station offers." - Marilyn
"It is so amazing to see the impact that Christian music has had in my 4 year old son Jonah's life. Jonah is a lover of music, so it's nice to know that he can listen to a station and his Dad and I don't have to second guess what he may be hearing or learning." - Amanda
"Hearing certain songs always reminds me of certain friends which keeps me in prayer for them. And I am always happy to be kept up to date with the music from favourite artists." - Cynthia
"You have no idea what an encouragement CHRI is to not only myself but so many other Christians that love to listen to your station. Keep up the good work!" - Dave
"Thank you for your mission of broadcasting God's Good News." - Renée
"Thanks to everyone who had a hand in having this [Malcolm Gladwell] article in the February issue of the CHRI Newsletter and giving me a new horizon for faith in God' power." - Gord
"I listen to your station via online - sounds great. Keep up the great work of bringing faith, music and community together." - Gary
"Thanks for the great job you're all doing. I listen to CHRI almost exclusively and am very thankful to have a Christian radio station here in Ottawa!" - Renate
"Kudos to all of you for the great job you do every day, edifying us to keep going and reminding us to Praise and Worship ALWAYS!!!!!!!!!!!!!!!!!" - Kim
"Thank you for all the wonderful programming, inspiring music and uplifting messages, you have made such a difference in my life. Keep up the great work!" - Mary-Anne
"May the Lord continue to bless CHRI. This station is truly a beacon of light to the Ottawa region and beyond.Thanks for the Christmas tea & have the Christmas card on my fridge so that I remember to keep you all at CHRI in thoughts and prayers. Best wishes for 2014." - Lifeisbeautiful222 (via YouTube)
"I am so thankful for your ministry and for the encouragement it gives me." - Debbie
"Thanks so much CHRI, we love your programs and music!P.S. We just moved to Aylmer, and are so happy that we still get your station so clearly!" - Giuliana
"I have been listening to CHRI since our family moved to Ottawa 10 years ago. But I first 'discovered' CHRI 15 years ago when our family was visiting the Nation's Capital from Mississauga!" - Nancy
"Love your station and the positive programming. Thank you and god bless your team." - Darlene
"Thanks for all you do. Listening before and after work is such a blessing for me!" - Cindy
"I am so thankful for you being online! It really soothes my soul to be able to listen from laptop as I go through my day. CHRI is like family after all these years so I don't feel the least bit alone!" - Patricia
"I just checked out your new playlist; it's awesome!!! I really appreciate the work you do. You are all such a blessing to your listeners." - Chantal
"CHRI radio was on 24 hours a day in our home for about five plus years. It's like a magnet to me. At night, the music is on very low near by when I sleep and I plan my day so I don't miss a Bible message. CHRI was part of my healing. " - Sheila
"I can't get enough of your radio. The music is so soothing to the heart and soul." - Gregory
"I'm writing to you straight from Angola, Africa. I love this station guys, keep serving...keep it Christ-centered!" - Pedro
"Thank you so much for being a part of every day of my life. You have inspired, befriended and taught me. I know each of you by voice so I'll be walking around heaven with my eyes closed for a bit." - Barbara
"I love listening to CHRI all through the work day; all of you at the station are a blessing. The music, book shows, the family-friendly shows. My daughters love listening to VeggieTales on Saturday mornings in the car on the way to dance class. Where else can you find such a station? Nowhere!" - Scott
"I absolutely love your radio station. It has a huge impact on my day. It's wonderful to be able to tune in to a positive and fun Christian music station." - Julie
"You are a refreshing voice to this generation." - Bill & Pam Farrel (authors)
"I had been telling the Lord that it would be helpful in my life if there was a radio station that had music with a Christian message to help me day to day. Wow! I turned on the radio and there you were! Keep up the good work! - Brenda
"Thank you for your station, incredibly refreshing when I get to listen at work." - Cory
"Thank you, CHRI! (re: "Overcomer" #1 song) I love the mix of songs you play on your station!" - Mandisa (Grammy-nominated recording artist)
"I don't know if people understand how truly blessed we are in Ottawa to have CHRI but our entire family has been big fans for years. We have listened to CHRI via internet even when life took us to other provinces and even when we were serving as missionaries in Africa." - Elaine
"What a wonderful Christian community we have in Ottawa and the valley. I feel very blessed to be able to listen to such a wonderful radio station." - Karen
"Thank you for all the excellent music and programs you air on your station. They help my faith in a huge way!!" - Mel
"I've just finished my first university class in Toronto and I am loving CHRI online! It's a nice taste of home." - Katherine
"CHRI beautifully brings the Christian community together. I'm glad to be part of this." - Colin Bernard (artist)
"Ottawa is blessed to have such a great Christian radio station and it has impacted my life like you would not believe! I appreciate all the encouraging news and advertising that CHRI provides." - Dave
"I have been a CHRI listener from day one... I know I am the Christian that I am today as a result of your music and message that has touched my heart and encouraged me to grow. My family has been impacted and benefited from so many of your programs." - Karen
"My wife and I were just posted here last April, we were very shocked to find an awesome radio station like this one; it was a breath of fresh air to find CHRI." - Norman
"You guys have been such a blessing in my life... Your faithfulness is priceless. May The Lord bless You and your families." Olive
"God bless you guys at Family Radio. Your station is always full of hope! I love the wonderful sermons and couldn't go a day without 99.1!" - Martin
"Thanks to everyone at CHRI for doing such a great job of bringing the Word of God to the Ottawa and surrounding areas." - Karen
"This radio station is a huge part of my walk with Jesus so thanks so much." - Deeana
"Love the broadcast, you're doing a great job. Keep up the good work because you're reaching a lot of people and turning their hearts towards God. May God bless you, your families, ministry and everything you put your hand to." - Joanne
"Glory be to God to your radio station, it has gotten me through some trying times when I was incarcerated. Once again I thank God for your continuous efforts of doing God's work." - anonymous
"Thank you for being responsive to today's times. You cover all age groups: children, adults, parents. Thanks for the purposeful music that is all about Glory to God, and for the encouragement for parents who are struggling. An excellent station for families!" - Janet
"One of the first songs I heard was "Come Away" by Jesus Culture. God used it to speak to my heart and draw me back to his heart of love for me. Thank you for fighting the good fight!" - Skye
"In the beginning of my walk with Christ I relied so much on this radio station to give me what I was searching for. I was provided with daily inspiration, and confirmation that I was heading down the right path." -Virginia
"Thank you for believing in us and backing the work we are doing. We are seeing young people become believers right in front of our eyes and huge walls coming down ...the hardest to reach dark places are being lit, and the most broken are being put back together." - Colleen (Revolution457)
"Thank you so much for being a light to the city of Ottawa, may God continue to bless CHRI." - Dan
"Thank you CHRI for all you give to us, encouraging and uplifting music and words, and inspiring each of us to step up and be part of the bigger plan God has for each one in this world." - Gillian
"I listen to CHRI from my waking moment for most of the day and it has been on several occasions that you guys played a song so appropriate to what I was going through. I'm sure you are touching thousands of lives." - Shalini
"I just want to say CHRI is the best Radio Station I know, and I listen to it everyday!!" - Sarah
"I write to you from miles apart... from India (Asia)! It's so wonderful to listen to Christian songs at all times and you guys help me a lot in this during my office hours. Love you guys. God bless." - Augustine
"I love your guys radio, and whenever I'm driving its always locked on 99.1"
"CHRI 99.1 FM is my constant companion. I make sure I listen to it from 10pm to 3am every night, listening to all the three sermons. I sometimes wonder what I will do without it. Keep up the good work!"
"God bless guys and your awesome works around the City!!" - Simonord
"I find it is very important that my 3 year old son understands and knows that Jesus loves him with all his heart, and through your music, I know he is learning that every day. SO THANK YOU!" - Allison
"My husband and I have listened to CHRI since the beginning. We LOVE the station..the dj's, music, ministry... we have been truly blessed by having CHRI in our listening area." - Jenny
"Wanted to let you know I so appreciate listening to Laugh Again in the mornings getting ready to start off my day! Great addition! Thanks so much for all you do - true blessing to the community!" - Shirley
"Your station has really been a blessing to my house for more than a year. May God bless you all." - Petro, from Cape Town, South AFrica
"My husband and I are new listeners to your show and we are so surprised that such a radio station exists! The music and teaching programs has helped us immensely in the past year. My children sing along to the music, which is wonderful!" - Margaret
"I don't live in the Ottawa area, but I listen to your Financial Fitness & Inside Track shows every Friday morning. These shows so relevant that I put a reminder in my online calendar so I never miss a show. Thanks for being a relevant, sensitive broadcaster that's true to your faith roots." - Gary (North Bay)
"I have started to listen to CHRI at work and it has been such a blessing in my life." - David
"Thanks for 'Love Does' from Brandon Heath at 4:16 AM this morning!" -Clémence
"CHRI helps keep my faith firm by being easily able to praise the Lord while driving, working, cooking supper. I am able to wake up to worship music and remember WHY I am able to wake up each day." – Nancy
"When I listen to CHRI, I just feel good! The Moring Express with Brock, Lunch Jukebox with Dan, Drive Home with Care, Focus on the Family, Financial Fitness & Today's Family – it all provides me with joy and peace and hope." - Lilly
Re: The Struggle Tour (April 5, 2013) "What a night, what a band! Thank you for being a part of bringing bands like this to Ottawa. GOD was blessed indeed." - Cory
"Just wanted to say how much I enjoy your station and love hearing those cool songs praising our Lord and Saviour Jesus Christ!" - Mike
"I recently began listening to your station online through Tunein.com. I love how all the music you play is Christian and different varieties, country, pop etc. They all mesh together perfectly. I am in New York City, listening from work!" - Isahony
"In 1997 when I first turned the dial, I knew it was the hand of the Lord and that this is what he wanted me to hear. CHRI is the only radio station that I listen to. You are carrying out the Will of God. This is His station for His Glory. Thank you to all of you who are faithfully carrying out the Will of God through Christian Radio." - Lorraine
"Thanks CHRI! I've been listening to you for 6 ½ years now. Thank you for your ministry; your work and your programs help to keep me connected to the Lord..which also keeps me sane." - Pamela
"Because of CHRI radio station and all of your great choices of worship music, I always smile on my way to work – I love it." – Sonya
"I appreciate your family friendly radio station and am thankful for the quality programming you provide Ottawa and the surrounding area." - Robert
"As usual CHRI is the best station and I can only wish you the best. God Bless CHRI and the team of people making it work." - Sandra
Blog
Written by Ashley
Friday, 08 February 2013 16:35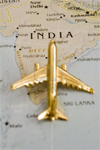 Well my bags are almost packed... On Tuesday I am flying to colourful & warm India for 2 weeks of exploration. I will be visiting some of Gospel for Asia's projects and ministries and am very excited & grateful to be representation the radio station!

Read more...
Written by Care Baldwin
Tuesday, 05 February 2013 15:54

Congratulations to Compassion Canada for 50 years of ministry... and counting!
In 1963, sponsors Bob and Janet Forsyth expanded Compassion's ministry from the United States (est. 1952) to Canada, giving Canadians the opportunity to respond to the needs of children around the world.
Compassion sponsored its 90,000th child in 2012. Click here for a look at some of the milestones. (PDF)
Written by Care Baldwin
Thursday, 17 January 2013 00:00

It's time for early Kindergarten registration! Parents of four and five-year-olds can register their children as early as January 21st (OCSB) and 28th (OCDSB).
'Read more' for information on Public & Catholic School Board and Christian School registrations!
(plus, Top Tips for early learning and a successful transition in to Kindergarten, from The Learning Partnership)
Read more...
Written by Care Baldwin
Tuesday, 15 January 2013 10:57
TobyMac premieres his music video for "Eye On It" (ft. Britt Nicole) on his Vevo channel today!
His sixth full-length studio album was the first Christian album since 1997 at No. 1 on the Billboard 200 chart (and only the third ever).
Written by Care Baldwin
Thursday, 13 December 2012 13:07
One of the many simple ways you can bless someone in need this Christmas is through Operation Christmas Child. Don't let a single needy child go without a shoebox!
Pack a box online at www.PackaBox.ca and if you want to pack shoeboxes the traditional way, please call Samaritan's Purse Canada at 1-800-663-6500 to make arrangements.
Here's Lejla's (from Bosnia) story:
Written by Care Baldwin
Wednesday, 05 December 2012 12:55
Focus On the Family provides a short list of how your family can keep the focus on Jesus Christ this Christmas...
Read more...
Sunday, 25 November 2012 08:00
«
Start
Prev
1
2
3
4
5
6
7
8
9
10
Next
End
»
Page 8 of 30