Testimonies
"God bless guys and your awesome works around the City!!" - Simonord
"I find it is very important that my 3 year old son understands and knows that Jesus loves him with all his heart, and through your music, I know he is learning that every day. SO THANK YOU!" - Allison
"My husband and I have listened to CHRI since the beginning. We LOVE the station..the dj's, music, ministry... we have been truly blessed by having CHRI in our listening area." - Jenny
"Wanted to let you know I so appreciate listening to Laugh Again in the mornings getting ready to start off my day! Great addition! Thanks so much for all you do - true blessing to the community!" - Shirley
"Your station has really been a blessing to my house for more than a year. May God bless you all." - Petro, from Cape Town, South AFrica
"My husband and I are new listeners to your show and we are so surprised that such a radio station exists! The music and teaching programs has helped us immensely in the past year. My children sing along to the music, which is wonderful!" - Margaret
"I don't live in the Ottawa area, but I listen to your Financial Fitness & Inside Track shows every Friday morning. These shows so relevant that I put a reminder in my online calendar so I never miss a show. Thanks for being a relevant, sensitive broadcaster that's true to your faith roots." - Gary (North Bay)
"I have started to listen to CHRI at work and it has been such a blessing in my life." - David
"Thanks for 'Love Does' from Brandon Heath at 4:16 AM this morning!" -Clémence
"CHRI helps keep my faith firm by being easily able to praise the Lord while driving, working, cooking supper. I am able to wake up to worship music and remember WHY I am able to wake up each day." – Nancy
"When I listen to CHRI, I just feel good! The Moring Express with Brock, Lunch Jukebox with Dan, Drive Home with Care, Focus on the Family, Financial Fitness & Today's Family – it all provides me with joy and peace and hope." - Lilly
Re: The Struggle Tour (April 5, 2013) "What a night, what a band! Thank you for being a part of bringing bands like this to Ottawa. GOD was blessed indeed." - Cory
"Just wanted to say how much I enjoy your station and love hearing those cool songs praising our Lord and Saviour Jesus Christ!" - Mike
"I recently began listening to your station online through Tunein.com. I love how all the music you play is Christian and different varieties, country, pop etc. They all mesh together perfectly. I am in New York City, listening from work!" - Isahony
"In 1997 when I first turned the dial, I knew it was the hand of the Lord and that this is what he wanted me to hear. CHRI is the only radio station that I listen to. You are carrying out the Will of God. This is His station for His Glory. Thank you to all of you who are faithfully carrying out the Will of God through Christian Radio." - Lorraine
"Thanks CHRI! I've been listening to you for 6 ½ years now. Thank you for your ministry; your work and your programs help to keep me connected to the Lord..which also keeps me sane." - Pamela
"Because of CHRI radio station and all of your great choices of worship music, I always smile on my way to work – I love it." – Sonya
"I appreciate your family friendly radio station and am thankful for the quality programming you provide Ottawa and the surrounding area." - Robert
"As usual CHRI is the best station and I can only wish you the best. God Bless CHRI and the team of people making it work." - Sandra
"God Bless you CHRI, you are my sanity in this crazy world. Your blessings have helped to save our marriage, set us financially straight and led us to our new, less complicated, downsized lifestyle. THANK YOU." - Maureen
"Love your station so much. Facebook friend, too! The combination of hits, classics, teaching and talk really feeds me when I am home and helps me refocus on Jesus' face." - Patricia
"[CHRI] has helped us immensely to get the word out about CityKidz. CHRI is a non-profit charitable radio station here in this city that is Kingdom focused and they are oozing with integrity in all their official dealings. We appreciate all they are doing!" - Wedny Turpin (CityKidz Ottawa)
"You will never know just how much we appreciate all you do for us. We thank God for you and your team." - Joel Bernard (on Colin Bernard's 2013 JUNO nomination)
"I listen to you every time I am driving and I sometimes see cars that have the 99.1 logo on their bumper!" - Phoebe
"Just wanted to say 'thank you' again for all you (Brock) and CHRI do. Love your station and the music you play. Also thank you for the variety of music that CHRI plays, even when it's as 'wide a variety as the east is from the west.' :) " - Ken
"My favourite radio station... It is blessing to have you!" - Susie
"A big plus is knowng that I can leave the station playing while my children are around – love the fact that pre-teen boys are into worship music!" – Elissa
"Best radio I ever listen to. If you want to enrich your knowledge about God and learn more about the power of The Almighty God, you need to listen to this radio station!" - Gazelle
"Love listening online to great music while I work away here (in Jamaica) at my desk." - Carolyn
"Love your station, the music, and the fact that CHRI is a registered Christian charity." - Darlene
"You station provides me with much support, and comforts me in my daily life. You have changed me and given me peace. Keep up the good work and I shall keep you in my prayers and thanks." - Jennifer
"Continue in your good work at the station, you are making a difference!" - Margaret
"I LOVE YOUR RADIO STATION!!!" - Susan
"Love your station. You're a constant source of encouragement and joy!" - Jon
"Thanks for making the song data available to display on my car radio, it is nice to see who wrote what and what a song is called". - Karl
"I thank you and your staff for having Family Radio. It has helped me through some dark, lonely and difficult times. He works and speaks through the music played. This station is so very, very important. I thank God for you." - Rosy
"[Kathy] May God continue to bless you as am truly being inspired by your program. Please continue to share the blessings, because "people need someone." - Moulton
"Thank you for playing 'Love Is Not a Fight' by Warren Barfield. God used it to open my heart and actively and intentionally fight for my marriage." - Anonymous
"I listen CHRI every day in my car and at work, it's the best station!. May God bless your ministery, guys. We love you!" - Dorval
"To the staff of 99.1: thank you for your dedication and hard work. May your ministry be blessed abundantly. Praise God!" - Marie-Josée
"Thank you CHRI!! It is such a blessing to be able to listen to your station here in Pembroke. Merry Christmas!" - Debbie
"Your station is such a breath of fresh air here in Ottawa." - Anne
"CHRI is definitely one of the Bright Stars in Canadian Christian Radio, and we are very thankful for all that you do to forward The Gospel across our land!" - Doug
"Thanks for taking the stand on CHRI for our Lord...our world needs HIM not a hi-def television." - Pete
"CHRI has helped lead me to find Christ and become a born again Christian. Whenever I feel stressed or worried I just have to pray and listen to CHRI and all of that goes away." - Scott
"CHRI is an amazing radio station, it's all that we ever listen to! May God continue His work through you all!" - Marie
"Steven Curtis Chapman's song "Heaven is the face" made me cry so hard in the car this evening that I was glad I had just pulled in to my driveway after it started. You should really provide a discretionary warning for fathers before playing that song. I haven't cried that hard in a long time. Thanks for your ministry." - Seth
"I love the teaching programs, I learn a lot. I love the wonderful music that you play, but most of all, I have enjoyed meeting a few of the staff and you are all down to earth people and easy and fun to talk with." - Danielle
"Our family loves CHRI... We have been blessed by listening to the music and ministry for the last 15 years." - Kenneth
"I love starting my day with Christian music; it gives me a positive attitude to start my day at work." – Hope
"God is good and continues to bless the station in big ways...and blesses a lot of listeners in doing so! Love listening online [from Jamaica!] when the streaming is working well :-) " - Carolyn
"I'm just so thankful that Ottawa has CHRI. I listen to it always in my car on the way to work and at home; I've learned a lot over the last few years from the 6:30pm Focus on the Family segment." – Elizabeth
"Love your station and all it stands for." - Louise
"[Dan], We listen to the lunch hour request show daily! Thanks for allowing your listening audience the opportunity of participating with the song selections!" - Iain
"May God continue to bless CHRI and all those associated with such a wonderful radio station. God Bless and walk in the Truth." - Owen & Elizabeth
"Hey CHRI... I just LOVE your station, what you stand for, who you work for, how you serve our city... it's just fantastic. Thanks for being a light on the radio. BIG BIG Blessings on you!" - Jon
"Hi CHRI... thanks for being on the internet... I can listen from home in Singapore! PTL for your ministry." - Paul
"Love you guys! Hope to have lots of great events so we can continue to work together to support great artists, in their mission to see souls saved." - Colleen (Revolution 457)
"Oh man, it was an amazing interview. Believe me, one of the better that I've experienced lately... so thank YOU" ... Matthew Paul Turner (author, JesusNeedsNewPR)
"I greatly appreciate CHRI, and the integral role they serve in Ottawa promoting awesome local events as well as providing great music! Its definitely my favourite radio station!" - Daniel
"Just wanted to express my appreciation for your station and the programming I enjoy throughout the week. I moved to Ottawa last year and live on my own and listening to the station has been a great source of encouragement for me." - Jesse
"Praise the Lord I can finally listen to you online via my computer at work. When I relocated, I was disappointed I could no longer listen to my favorite Christian radio station until last week, God is good" - Robyn
"Thanks so much for all you do. This radio station is truly a blessing to me" - Prea
"I want to thank CHRI for the great opportunity the station gave my husband and I with the win of the ski weekend at Calabogie Peaks. Thank you for a well needed break for both of us." - Marilyn
"My husband and I just started listening to your station, and it's amazing. Thank you for all of the amazing and uplifting messages." - Cadina
"CHRI inspires me every day!! Awesome team! Awesome work!" - Lynn
"I just wanted to affirm you and all the staff at CHRI in what you are doing with the ministry of the station. It is really wonderful to see God's hand directing and blessing what you are doing." – Barb
"God Bless your very important ministry! I always listen to CHRI on all my days off and the music really helps me connect with God." - Melanie
"I love that I can listen to CHRI online now that I live in BC and not in the Ottawa area anymore. / Love the playlist feature!!" - Patricia
"Keep up the good work or bringing Christian radio to Ottawa and the Valley!" - Carolyn
"I do love CHRI and you are a big part of keeping me in the Way. Because you have such good programs which are available and encourage me whenever I hit a bump. Keep up the good work and thank you for being there." - Sandra
"Words can't express our thanks to you. Thank you for your part in getting the people to our CD release concert." - Geoff & Pearl Dresser
"I was so blessed by everyone on Friday. I wish the listeners knew just how amazing you all are in person. You treated me like a queen." - Vicky
"Thanks for all that you do on your show, you're all a blessing to the listening world." - Michael
"Thank you CHRI, you have no idea how much hope you gave me when I went through difficult trials. CHRI helped me see Christ's will for me and held my hand through it all with HOPE." - Neida
Thanks for letting my husband and I tour the studio on friday! It was awesome getting to meet all of you! - Rebecca
"I would just like to say thanks! I am sooo grateful to have such an AWESEOME Christian station to listen to 24/7!!" - Anna
"I myself am just starting to become comfortable getting back to communing with God again. Now I can always turn CHRI on in the car going home... and we listen to Joyce as often as we're in the car at that time, so it's almost like going to church every day.." - Carol
"I am inspired and blessed daily by CHRI and thank you with all my heart and soul." - Louise
Hey Kathy am loving your show! I listen to your program from my phone then I continue in my car on my way to work. May God continue to bless you as am truly being inspired by your program. Please continue to share the blessings, because "people need someone". - Moulton
"Wow what a great movie (Soul Surfer), my girls, and their friends thought it was great. Thanks for the tickets. You guys are doing great work!! Praise God!" - Jeff
"Brock, I love your show and hope you are doing well. You are truly blessed with being a natural on the radio." - Nancy
"This radio station has been very instrumental in my walk with Christ! CHRI has allowed me to grow leaps and bounds. I believe wholeheartedly, without CHRI, I would not be the Christian I am today. Jesus loves you and so do I!" - Christian
"Our daughter Rachel, who worked at CHRI on a co-op student assignment in 2002 really blossomed when working at the station; she loved it." - Coby & Bill
"We didn't realize how much we appreciated CHRI until we didn't have it. We really miss the encouraging and uplifting songs and Bible teaching! We can't tell you enough how much we love your station! Keep up the great work! ...we'll be listening online! Please, come out West!!" - Kyle
"Keep up the Great work, Brock. You're doing a Superb Job as you have served many of us for so many years. You're definitely the anchor at CHRI indeed! Bravo!" - Sam
"Thanks for being the blessing you are for my days that I work I usually am gone a minimum of 12 hours a day and for 4 of those hours CHRI's ministry impacts my life and who I am in the Lord.. Thanks." - Brenda
"I try to listen every day, even at work. It really helps me to keep God as my focus throughout the day, by having the music and teaching programs playing. It all gives me a real lift throughout the day." - Deb
"If I could pick one word to describe CHRI it would be 'Inspirational'. Inspiration is woven into every piece of fabric that makes up the station, all thread by God's love." - Louise
"I have been listening to your radio station for about 12 years and find that it never fails to bring me back to what is Important. Through the music, dedicated staff and programs, and events, CHRI has helped lead me back and stay strong in my faith. Thanks for all your Good Work!" - Judy
"We enjoy listening to the music and the kids show. Today CHRI is our connection to concerts and events in the area which helps keep us informed. Thanks CHRI" - The Morgans
"CHRI is a very , very special place! Congrats everyone! I am not biased at all, but it truly is an amazing place to work and be a part of whether listening or volunteering. Just amazing!" - Tristan
"My Grandfather--led Brock's Dad to the Lord--brought Brock up in a Christian home--in turn Brock is now blessing my days by encouragement and playing music enriched with the love of the Lord. Thank you Brock and CHRI for being one of those encouragers and blessings in my family's life." - Andrea
"I want to thank your radio station and the work you all do for all the good things you bring. You have been there for me in the darkest times of my life, and I thank you dearly for that. God bless you and your families!"
- Neida
"We wanted you to know that we had a great book signing after our interview with CHRI. A number of people came into the store to see us because they heard us on your show. So thanks for your gracious invitation."
- Bryan & Ann Norford
"Thank you and may God continue to bless the amazing work CHRI is doing in Eastern Ontario"
- Aaron & Rebecca
"I want to thank you for supporting local artists and being willing to support me by playing "5 Minutes". It means so much to me to have support in my home town and on the best station in Canadian Christian radio. I'm honoured to be played on CHRI! Thanks again!" - Ian Warner
"I always listen to your show on the way back from work on Sunday evening. I'm thankful that you continue to make sure we have good black gospel music on the airwaves... Because there's nothing like it on the airwaves at all in Ottawa."
- Paulo
"What a blessing it is to be able to kick it with you guys though I'm so far away now. Keep up all the great work you are doing. Many, many blessings to you and all the staff at CHRI"
- Keith
Thank you so much for all you guys do! God Bless you!"
- Jason
Tuesday, 13 April 2010 13:00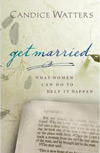 Marriage is a worthwhile and holy pursuit. Using clear biblical insight and compelling examples, "Get Married" shows the difference between wanting to get married and actually cooperating with God to help it happen.
Click here to listen to Brock's interview with Candice Watters, author of "Get Married: What Women Can Do to Help It Happen", on this week's Wednesday Bookmark, brought to you by Salem Storehouse!
Download Embed Embed this video on your site

20% off!
Order your copy at

Salem Storehouse

 (1558 Merivale Road, 613-727-0203 or 839 Shefford Rd)
Offer only valid for one week from the interview date.
This is not a book about making the most of singleness, nor is it a how-to with ten steps to "finding the man of your dreams." Rather, it's a book that encourages single women to live like they plan to get married. It will show you how to embrace Christian community, learn to encourage men and empower women as you work toward your ultimate goal: a God-glorifying marriage. Includes commonly asked questions about applying Get Married to individual situations, recommended reading, and author's personal story.
Getting married is more than a lifestyle option or just something that would be "nice if it happens." Not only is marriage good and natural to want, it's what most of us are called to pursue. There's a difference between making it happen and helping it happen. This isn't a book about desperation or the hyper activity of joining every dating service and singles group. It's not about making cold calls or tackling a list of 100 tips for meeting hot men. "Get Married" is about living like you're planning to marry. It presents a lifestyle that esteems marriage, encourages men, empowers women, and embraces Christian community and a biblical understanding of what marriage is for. Most importantly, it shows women that marriage is a worthy goal that's within their grasp. You can be content with where you are today and still desire marriage in a way that honors God. And there are things you can do to help it happen.