The Wednesday Bookmark
Details

Category: Authors
Published:

Tuesday, 02 January 2018 04:10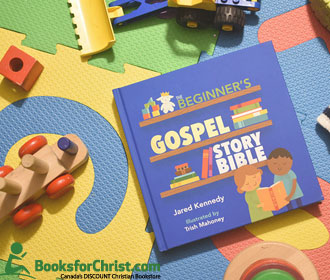 52 Bible stories from the Old & New Testaments show young kids God keeps His promises. Read more for Care Baldwin's kids Wednesday Bookmark interview with author Jared Kennedy.
Purchase "The Beginner's Gospel Story Bible" online at booksforchrist.com.
(Originally aired January 3, 2018)

Book Description: The Beginners Gospel Story Bible is a gospel-centered, Bible storybook for toddlers and preschoolers with fifty-two Bible stories retold in a simple and compelling way. Author Jared Kennedy traces through the stories of the Old and New Testament how God keeps his promises in surprising ways better than anyone could have ever thought or imagined! Each story highlights for young children Gods story of redemption through Jesus and the unexpected ways that Gods grace and mercy are revealed throughout the Bible. Children will hear the good news of Gods love for them clearly expressed in ways that will speak to their young hearts. Each story ends with a question that parents and caregivers can use to further reinforce the story. Brightly colored illustrations highlight each story and add fun teaching elements of counting, opposites, patterns, and object recognition to keep the youngest childs attention.
About the Author: Jared Kennedy, MDiv, ThM, is the husband to Megan and the father of three girls—Rachael, Lucy, and Elisabeth. He serves as Pastor of Families at Sojourn Community Church—Midtown in Louisville, KY and as children's ministry strategist for Sojourn Network. He blogs regularly at gospelcenteredfamily.com and is also the coauthor of Leadership Mosaic and two VBS programs, Proof Pirates and Clap Your Hands, Stomp Your Feet.
Connect: