The Wednesday Bookmark
Details

Category: Authors
Published:

Tuesday, 05 December 2017 00:10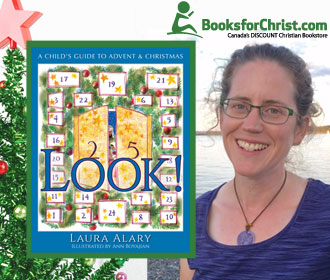 Pay attention to the ways God comes to us. Read more for Care Baldwin's YA Wednesday Bookmark interview with author Laura Alary.
Purchase "LOOK! A Child's Guide to Advent & Christmas" online at booksforchrist.com.
(Originally aired December 6, 2017)

Book Description: Look! A Child's Guide to Advent and Christmas presents Advent as special time for waiting and watching—paying attention—to the ways God comes to us.
Told from the point of a view of a child, the story weaves together familiar Advent traditions like the Jesse tree and the Advent wreath, biblical stories and characters, and reflections on what these stories call us to do and be.
This book reassures children of the presence of God in all times and places and invites them to become part of the holy work of making Christ present in the world.
With this new title, author Laura Alary and Illustrator Ann Boyajian add to the Paraclete Press line of children's titles that are gaining an extensive following in the Evangelical, Catholic and Liturgical markets.
About the Author: Laura Alary is a mother, writer, teacher, preacher and storyteller. She grew up in Nova Scotia, studied Classics at Dalhousie University, has an M.Div. from Knox College and a Ph.D. in Theology from The University of St. Michael's College. She is the director of Christian Education at Guildwood Community Presbyterian Church in Scarborough and is the author of five picture books.
Connect:
Facebook.com/Laura-Alary-Author