The Wednesday Bookmark
Details

Category: Authors
Published:

Tuesday, 21 November 2017 00:10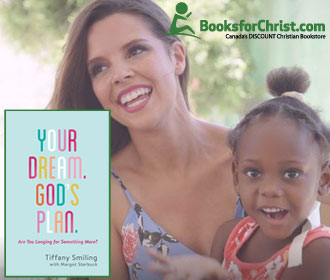 Satisfaction can be yours, but it might look different than you thought. Read more for Care Baldwin's youth/YA Wednesday Bookmark interview with author, cancer survivor, and advocate Tiffany Smiling.
Purchase "Your Dream. God's Plan. Are You Longing for Something More?" online at booksforchrist.com.
(Originally aired November 22, 2017)

Book Description: Satisfaction can be yours, but it might look different than you thought.
Like a lot of young women, Tiffany Smiling had been assured that the path to fulfillment looked like the one she'd seen in her favorite movies: She'd be swept away by a soul mate, live in a southern estate, and start a family.
But Tiffany's story unfolded quite differently.
Weeks after serving on her high school's homecoming court, while doctors operated to remove the brain tumor that was killing her, Tiffany suffered a paralyzing stroke. In the nick of a scalpel she lost her beauty and most of her physical ability. Returning to high school in a wheelchair, head half-shaved and face distorted, Tiffany vowed to be normal and live the dream.
And for a season, she did.
But just when the fairytale was within reach, God surprised Tiffany. Wooing her heart, God convinced her that there was something even better in store for her.
. . .And He has something better in store for you, too.
Read Your Dream. God's Plan. and see how the Lord wants to use the broken pieces of your life for His greater plan for you.
Smiling's story will help you see the ways God is writing your own amazing story—designed for His glory and your fulfillment.
About the Author: Though she was given just three months to live as a child, today Tiffany Smiling—writer, speaker and entrepreneur—is changing the kingdom of God around the globe. She's a cancer survivor, an injustice fighter and, above all else, she is passionate about knowing Christ and making him known.
Born and raised in Tulsa, Oklahoma, Tiffany attended Oklahoma State University. During the summer before her senior year, she opened her own Orange Leaf Yogurt franchise and subsequently opened one other local business. Today Tiffany is utilizing her entrepreneurial skills to grow the kingdom of God through orphan care. As a co-founder of Project Orphans, 27-year-old Tiffany has opened orphan homes in Uganda, Guatemala, Brazil, and Haiti.
Convinced that when Christians truly know Christ they will go and make Him known, Tiffany has recently founded With All My Heart, an organization to equip this generation to know Christ deeply through the study of His word and, as a result, to respond to God's call to serve the world. The With All My Heart Foundation, currently building the Children's Village for Orphans in Haiti, serves children and others living in poverty around the world.
Connect: