The Wednesday Bookmark
Details

Category: Authors
Published:

Tuesday, 16 May 2017 06:00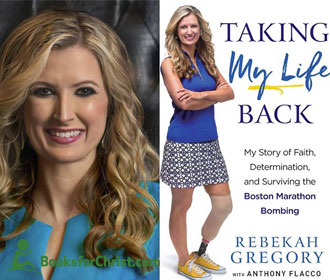 Riveting . . . transparent . . . compelling . . . hopeful. Rebekah is not only a survivor. She's an overcomer! Read more for Brock Tozer's interview with Rebekah Gregory on this week's Wednesday Bookmark brought to you byBooksforChrist.com. (Aired Wednesday, May 17, 2017)

Purchase online at BooksforChrist.com
On April 15, 2013, Rebekah Gregory and her five-year-old son waited at the finish line of the Boston Marathon to support a friend who was running. When the blasts of terrorists' homemade bombs packed with nails and screws went off three feet away, Rebekah's legs took the brunt of the blast, protecting her son from certain death. Eighteen surgeries and sixty-five procedures later, her left leg was amputated.
Despite the extraordinary trauma she underwent and the nightmares she continues to have, Rebekah sees it as just another part of her personal journey, a journey that has led her through abuse, mistakes, and pain and into the arms of Jesus. This stirring memoir tells the story of her recovery, including her triumphant return to Boston two years later to run part of the race, and explores the peace we experience when we learn to trust God with every part of our lives--the good, the bad, and even the terrifying.
Readers will be moved by the joyous way Rebekah is determined to live her life, seeing every obstacle as part of how God forms us into the people we are meant to be. Readers will also find comfort in the message that it's not what they can or can't do that makes the difference, but rather what God, in his mercy, does through them despite it all. Life is hard, but with God all things are possible.
ABOUT THE AUTHOR
Rebekah Gregory is a woman and mother whose life was forever changed due to the bombings at the Boston Marathon on April 15, 2013. This act of terrorism may have claimed her leg but it could not claim her spirit. She is now a powerful motivational speaker who encourages people all across the country with her message of faith and hope. She lives in Houston, Texas, with her son, daughter, and husband.
RebekahMGregory.com
facebook.com/rebekahmgregorypage
twitter.com/rebekahmgregory