Contests
Details

Category: Contests
Published:

Saturday, 11 November 2017 00:00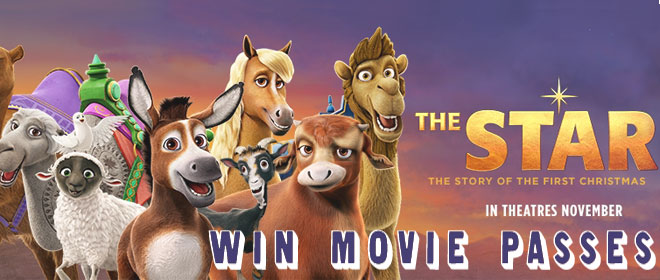 Coming to theatres November 17th. For a list of theatres, visit faithfilms.ca
HOW: Listen for Brock to give you the cue-to-call and share about your Christmas preparations... Is your tree up yet? ;)
WHAT: WIN movie passes (2 x Run of Engagement passes valid at Cineplex Monday - Thursday as long as the film is in theatres), movie poster, and colouring pages, courtesy of Affirm Films!
WHEN: Monday, November 13th through Friday, November 17th, 2017 on the Morning Express (between 7:00am - 10:00am ET daily)
WHERE: On Air, 613-247-1886
Synopsis:
THE STAR tells the story of a donkey named Bo who yearns for a life beyond his daily grind at the village mill. One day he finds the courage to break free, and winds up on a journey following the star along with Mary and Joseph and some eccentric stable animals. Bo and his friends become unlikely heroes in the greatest story ever told – the first Christmas.
With an all-star cast:
Steven Yeun (Bo the donkey), Kelly Clarkson (Leah the horse), Keegan–Michael Key (Dave the dove), Kristin Chenoweth (Mouse), Patricia Heaton (Edith the cow), Zachary Levi (Joseph), Oprah Winfrey (Deborah), Tyler Perry (Cyrus), Tracy Morgan (Felix), Christopher Plummer (King Herod), and more!
The first major release of an animated faith-based film since The Prince of Egypt in 1998, The Star, comes to select Canadian theatres starting November 17th.
For more info and a list of theatres, visit faithfilms.ca