Articles
Details

Category: Authors
Published:

Monday, 15 February 2010 18:00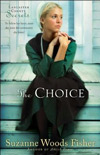 A young Amish woman is torn between following the man she loves and joining the community of faith that sustains her, even as she questions some of the decisions of her elders.
Click here to listen to Ali's interview with Suzanne Woods Fisher, author of "The Choice", on this week's Wednesday Bookmark, brought to you by Salem Storehouse!
20% off!
Order your copy at

Salem Storehouse

(1558 Merivale Road, 613-727-0203)
Offer only valid for one week from the interview date.
"Fisher kicks off a refreshing new series, Lancaster County Secrets, with characters that are strong, both in body and spirit. They also have weaknesses that develop into strengths with the choices they make."
One moment, Carrie Weaver is planning to elope with Lancaster Barnstormer Solomon Riehl, leaving their Amish community behind. The next, she is staring into a future as broken as her heart. Now Carrie faces a choice. An opportunity. But will this decision, this moment in time, change her life forever?
With a vibrant, fresh style Suzanne Woods Fisher brings readers into the world of a young Amish woman torn between following the man she loves--or joining the community of faith that sustains her. Her choice begins a torrent of change for her and her family, including a marriage of convenience to silent Daniel Miller. Both bring broken hearts into their arrangement--and secrets that have been held too long. Filled with gentle romance, The Choice opens the world of the Amish--their strong communities, their simple life, and their willingness to put each other first. Combined with Fisher's exceptional gift for character development, this novel, the first in a series, is a welcome reminder that it is never too late to find your way back to God.