Articles
Details

Category: Concerts
Published:

Monday, 31 August 2015 08:00
The mega-church worship team that brought you "Furious", "You Make Me Brave", and "Ever Be" are stopping in Ottawa on their BETHEL MUSIC WORSHIP NIGHTS Tour.
Tickets available online here (prices are in USD).
Bethel Music Worship Nights are coming to the East Coast with Amanda Cook, Steffany Gretzinger, William Matthews, Paul & Hannah McClure and Josh Baldwin!
The heart behind Worship Nights is to partner with what God is doing in communities around the world and see heaven invade earth. Join Bethel Live for an authentic night of worship, encouragement, and prayer as we love God together and pursue His presence.
WHEN: Tuesday, September 8th, 2015 @ 7:00pm (Doors @ 6:00pm)
WHERE: Woodvale Pentecostal Church (205 Greenbank Rd, Ottawa) MAP
COST: Prices are in US dollars. $20 Early Bird until June 26th. $25 general admission, $69 Bethel Breakouts* (Breakout tickets are sold out - scroll down for details). Available online only here.
Meet the Artists:
Amanda Cook
Steffany Gretzinger
William Matthews
Paul & Hannah McClure
Josh Baldwin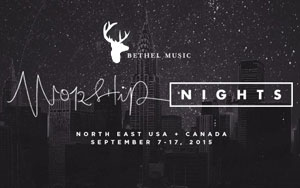 *Bethel Breakhouts ($69 US)
Bethel Breakouts will allow space for you to gather with like minded people growing in what it looks like to pursue His presence through worship, teaching, prophetic, and testimony. To ask questions, to be filled up and to deposit the heart of a tangible God throughout your community.
What to Expect:
• Admission and preferred seating for evening Worship event.
• Exclusive afternoon Q & A session with Bethel Music artists & team, followed by an intimate acoustic worship session.
• 2-hour ministry workshop with Bethel Music pastors & ministry team. This life changing class will equip and empower you with tools to cultivate a kingdom culture in your life and in your community.
Visit bethelmusic.com for more details.