Articles
Details

Category: Authors
Published:

Monday, 09 May 2011 08:00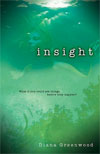 A moving story of compassion and cruelty, laughter and heartache.  
Click here
for Care's interview with Diana Greenwood,
author of "Insight", from this week's 4:30pm Wednesday Bookmark, brought to you by
Salem Storehouse
! 
20% off! Call 613-727-0203 to reserve your copy or visit Salem Storehouse (1558 Merivale Rd, 839 Shefford Rd or 315 Lisgar St) Offer only valid for one week from the interview date.
Some secrets won't let you go. Elvira Witsil lives about as far away from civilization as you can get, in a remote corner of Wisconsin where nothing much ever happens. In a house crowded with her mother, her cantankerous grandmother, and her little sister, Jessie, Elvira feels forgotten and alone. Their house also contains numerous secrets, and Elvira's family holds their secrets closely. Secrets about the father that Jessie never knew, and that Elvira can't forget. Secrets about that day five years ago. And the one secret that Elvira can't quite understand: that Jessie sees things no one else can see. These secrets will lead Elvira and her family on a journey far away from home---on a journey toward redemption and healing---if she can just bring herself to believe.


http://www.dianagreenwood.com