Featured Events
Details

Category: Featured Events
Published:

Tuesday, 14 November 2017 12:16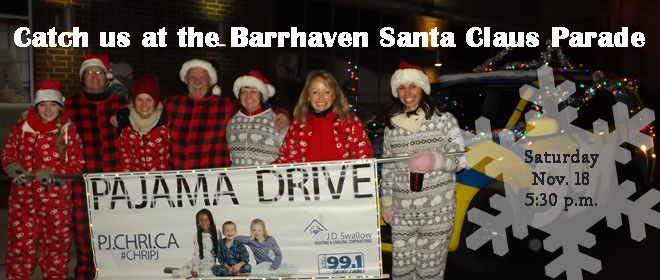 We'll be participating in the Barrhaven Santa Claus Parade THIS SATURDAY!
Join us as we partner with churches, businesses, and organizations in the Barrhaven community to celebrate the Christmas season!
(We will be promoting the 2017 Pajama Drive – Watch for Dan, Care, Trudy, and Ashlyn and the Family Fun Team in their pajama ONESIES!! We are float #25)
Click here for a map of the parade route.
PARADE DAY INFORMATION
WHEN: Saturday, November 18th @ 5:30 P.M.
FIREWORKS KICK-OFF at 5:20 pm on Strandherd Drive.
WHERE:
Parade begins at Strandherd Drive & Beatrice Drive
Parade ENDs at corner of Strandherd and the park 'n ride (near Canadian Tire)
CHARITIES
Non-perishable food items or cash donations for the Barrhaven Food Cupboard will be collected along the parade route.