Featured Events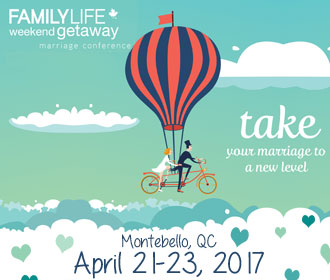 Whether you want to build a solid foundation or rekindle the romance, take time together as a couple without all the distractions of life to strengthen your marriage and learn to ENJOY the Journey!
WHEN: April 21-23, 2017
WHERE: Fairmont Le Château Montebello (Special Room Rate, mention "FamilyLife Weekend Getaway" at the time of booking.)
http://www.fairmont.com/montebello/
COST: $380 /couple + $6 processing fee, register online here.
(buy one registration and get the second free *until January 31st
(hot meals & parking not included)

A Weekend Getaway is a marriage conference uniquely designed to enrich your relationship.
BENEFITS to You As a Couple:
Time - Spend quality time focusing on each other and your relationship.
Tools - Sharpen your relationship skills.
A Plan - Develop a plan to finish together.
Spiritual Health - Learn about God's design for marriage and the power of "oneness".


GUEST SPEAKERS:
Neil and Sharol Josephson - the directors of FamilyLife Canada and have been ministering to couples as marriage and family pastors for years.
Dave and Rushia Klassen - have worked with Athletes in Action since 1989 and have been speaking at Familylife conferences for 15 years.
Keith & Sheila Gregoire - Sheila is an award-winning marriage author, speaker and blogger.
Paul & Eleanor Henderson - Paul had a lengthy and exciting hockey career with a loving and supportive Eleanor always by his side.
Ryan and Jennifer Walter - Ryan played and coached in the NHL for 17 seasons and won a Stanley Cup with the Montreal Canadiens. He has also authored 5 books. Jennifer is a writer, editor and speaker.
Walt & Anne Moodie – Retired with 8 grandchildren, but they're not slowing down: Golf, sailing, travel, volunteering and marriage mentoring keep them busy.